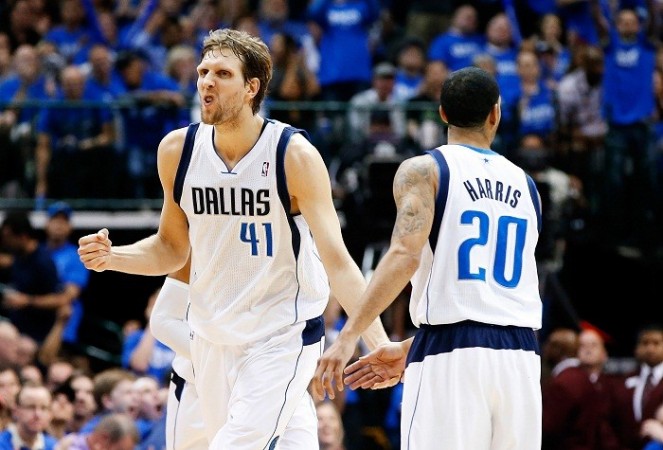 Both the San Antonio Spurs and the Dallas Mavericks are evenly matched teams heading into the deciding seventh game of the first-round playoff series.
The Mavericks clinched the last game and broke the Spurs' two-game winning streak to force the decider. It could have been anyone's game, but Dallas hung on in the closing stages to keep their hopes alive of facing the Portland Trail Blazers in the second-round.
San Antonio is one of the best defensive teams in the league. On the other hand, Dallas is a balanced offensive side with Vince Carter, Monta Ellis and Dirk Nowitzki. In this crucial game, the Spurs have to show greater intensity to stop the Mavericks from scoring from the paint.
The Spurs have also shown good offense in last few games, with Tony Parker regaining his lost form, while Tiago Splitter and Tim Duncan have scored heavily from the paint. Kawhi Leonard is a concern for San Antonio, but he can make a big impact with his two-way play.
Dallas coach Rick Carlisle said he has full faith in his players to pull off an upset in San Antonio. "It's another one-game season for us," Carlisle said. "We've had them all year. We know what they're about, and we wanted this opportunity."
San Antonio's Manu Ginobili said losing the sixth game was disappointing as they could have won the series in Dallas. He added they will have to put on a better performance to win Game 7.
"It's, of course, disappointing," said Manu Ginobili. "But it is what it is. We've got to go fight and try to get it in Game 7."
DeJuan Blair would be hoping to make an impression in San Antonio after he missed the last game at the AT&T Center for kicking Splitter in the head in Game 4. Nowitzki said he can understand how tough it was for Blair to sit out in that postseason game.
"It's tough to miss a regular season game. To miss a playoff game is a killer," said Nowitzki. "Know how bad he felt about missing that one and watching that one in San Antonio. I'm sure he thought to himself he could have helped us out there."
Where to Watch Live
The game is scheduled for a 3:30 pm ET (1:00 am IST, 7:30 pm GMT) start with live coverage on Sony Six and Sony Six HD in India. The game can be watched on ESPN in the US with the live streaming option HERE or HERE. The game can be live streamed by international viewers, including India, HERE.