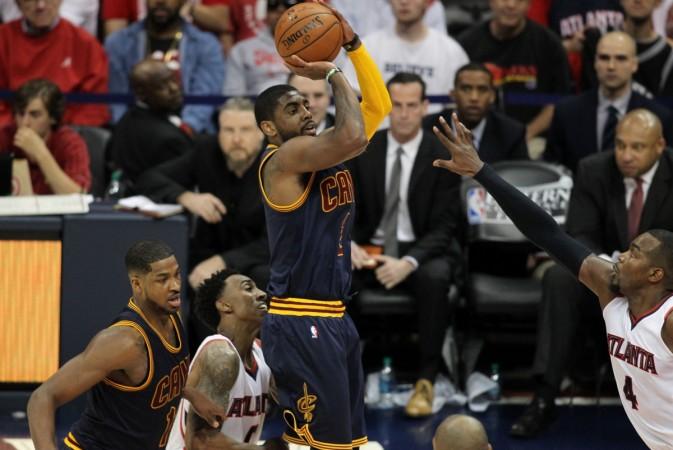 The Atlanta Hawks lost their first game of the best of seven series at home against the Cleveland Cavaliers during the Eastern Conference NBA Playoffs final, but they can plot revenge as they square off once again at Philips Arena on Friday night for the second game.
The Cavaliers put up a great showing in the first game with the score reading 97-89 in favour of the Cavs.
If the Cavs put up a similar performance at Philips Arena and walk out victorious in game 2 as well, the Hawks can kiss their dream of NBA final goodbye with game 3 and 4 to be played at Cavs' home, where they dominate teams.
LeBron James has been in an amazing form for the Cavaliers and their coach David Blatt will be asking his star player to deliver the goods once again in game 2 as well. James top scored during game 1 with 31 points.
But there is some cause for worry for Cavs, as another star player, Kyrie Irving is not 100% fit and that was evident when he played game 1. The player is suffering with tendinitis in his knee. Despite the injury, Irving has given it all.
''He wants to be out there at his best and he's dealing with a situation that's not easy for him,'' AP quoted Blatt as saying. ''On the other hand he's still out there contributing and giving us things we really need and battling through this thing with heart and with courage.''
''We hope that he can play,''
''The nature of his problem is one that allows him to do so. It's just a matter of discomfort and sort of having to deal with the elements and play through it.''
Irving was one of the standout performers for the Cavs during the regular season. He averages 18.9 ppg this playoffs.
The Hawks may not depend on the services of one or two players only as they have stars such as Jeff Teague, Paul Millsap, Al Horford and Kyle Korver to come up and deliver the goods. But their bench players need to rise to the occasion as none of the non-starters finished game 1 on double digits. Compare this to Cavs' JR Smith's performance from the bench, where he came up with 28 points, including eight three pointers.
May be, it is time for Millsap and Teague to elevate their game a notch higher and provide a stiff competition to the Cavs.
However, Hawks have received some positive news with regards to DeMarre Carroll, who left the first game after a knee injury. MRI scan showed that the hoopster did not have any major damage, but only a sprain.
His participation for Friday's game is still uncertain.
Where to Watch Live
The NBA Playoffs Eastern Conference finals game 2 between Atlanta Hawks and Cleveland Cavaliers is scheduled for 8:30pm ET (6am IST, 1:30am BST) start.
Viewers in the US can watch the game live on TNT while Indian audience can watch it on Sony Six.
NBA fans can also watch the Playoffs live on NBA.com