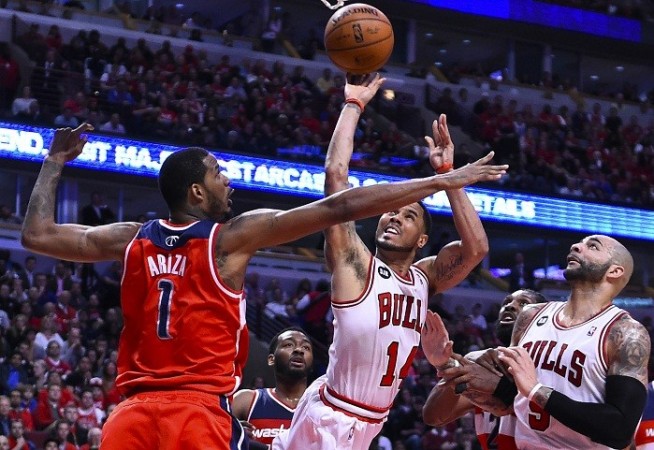 Washington Wizards, after winning back-to-back games against the Chicago Bulls, will be hoping to continue their winning streak and virtually seal the Easter Conference first round series in Washington. Wizards will be hosting their first playoff game in six years and it would be interesting to see how their always-late-to-arrive Washington crowd roar their team on at the Verizon Arena.
Wizards have shown plenty of grit, they outmatched Chicago with their offensive play and scored more than 100 points in both games of the series. Before the playoffs no one would have thought Washington will be heading into Game 3 with a 2-0 lead, but the Randy Wittman-coached outfit has scripted a brilliant story so far.
This might be the first home postseason game for Wizards' players like John Wall and Bradley Beal, but they have a number of experienced players in the roster with plenty of playoff experience, such as Nene (44), Marcin Gortat (46) and Andre Miller (52).
Washington has proved the blend of experience and youth works wonders, while the Bulls feel that by doing small adjustments in the squad they can turn the tide.
John Wall said the Wizards are not just content with winning the first and second game, as they know that it would be harder to maintain the winning momentum.
"We knew what it would take to win Game 1 and Game 2, and it's going to take a lot more to win Game 3," Wall said. "We haven't done nothing but win two games in a row. We're not thinking that. We're thinking Game 3. You think sweep and lose Game 3, then you're in a bind."
Bulls willl be heading onto the court feeling they can beat Washington, as both previous games were close and a few plays here and there could have changed the outcome. Bulls forward Taj Gibson said they have to give everything in the third game as they are well aware there is no room for error.
"You've got to rock with what you've got," Taj Gibson said. "You've got to play with whoever's out there on the court. The room for error is short."
Gibson, who had 22 points and 10 rebounds in the second game, added the team has studied the previous losses and are ready to learn from their mistakes.
"We've got to finish games," Taj Gibson said. "We watched the film and it came down to us being a fingernail short every time. Guys were diving for the ball and scrambling around. They just made some great plays. Playoff-style basketball, I guess."
Where to Watch Live
The game is scheduled for an 8:00 pm ET (5:30 am IST, 12:00 am GMT) start with live coverage on Sony Six and Sony Six HD in India. The game can be watched via live streaming online in the US HERE. The game can be live streamed by international viewers, including India, HERE.