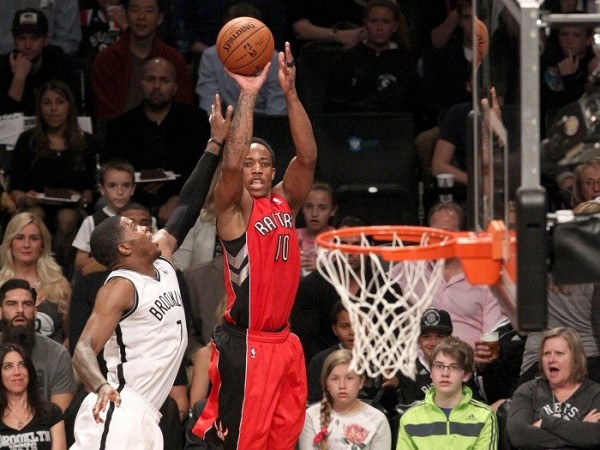 The Toronto Raptors, after winning Game 4, will be hoping to take a lead as they face the Brooklyn Nets at the Air Canada Centre.
The Raptors have played as underdogs in the playoffs and have been fairly successful under their coach Dwane Casey. After a sloppy performance in the third game, the Raptors regrouped to take the fourth.
Toronto are facing a number of problems with their offensive movements, as DeMar DeRozan is running the show alone, due to which he has been forced to take unnecessary shots. Toronto needs to find an effective attacking strategy to ensure help on the offensive end from other players.
Paul Pierce and Kevin Garnett added 22 and 10 points, respectively for the Nets in Game 4, but Deron Williams and Joe Johnson have remained ineffective. Still Brooklyn managed to recover from a 17-point deficit in the third quarter.
Casey said that it is not going to be an easy run at home for his team and they will have to be at their best to take the lead in the series.
"It's not going to be all smiles and bubble gum and fruitcakes tomorrow night, it's going to be a street fight," Casey said on Tuesday. "And that's the way we've got to come out, with that mentality.
"We're like a fighter who worked his butt off in training camp. He can fight, but he's going into every fight as the underdog and everybody is going against him. That's how we feel, that's our mentality."
Amir Johnson believes that Casey's approach is a huge motivation for the team and the team is looking forward to shut down their critics.
"When people doubt us, that's what we want," Johnson said. "That's what we feed off. People doubt us and think we can't do it, that's what gets us energized and that's when we prove them wrong."
Where to Watch Live
The game is scheduled for an 7:30 pm ET (5:00 am IST, 11:30 pm GMT) start. The game can be watched via live streaming online HERE.