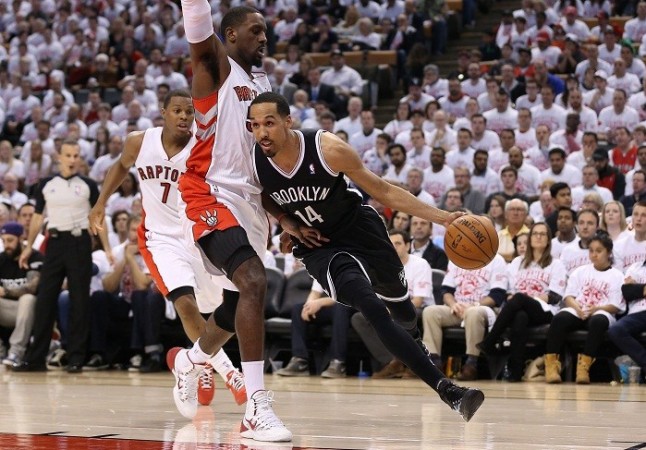 Leading the seven-game NBA playoff series, Brooklyn Nets are set to lock horns with Toronto Raptors in the second game to grab a commanding 2-0 lead before heading for their home games. In the last encounter, the Nets shut the doors in the closing stages to register a comprehensive 94-87 victory over the Raptors.
On the other hand, Raptors will be looking to avoid back-to-back defeats at home and square the series to keep them rolling in the competition. Raptors have to tighten their defence, especially in the closing moments, as in the last game Joe Johnson, Deron Williams and Paul Pierce scored heavily in the fourth quarter.
There are question marks on the readiness of Raptors leading scorer DeMar DeRozan for the playoffs. En route to his 3-for-13 showing, he missed his first eight shots. Toronto as a team should take more shots at the rim, as last time they attempted just 33 shots from the paint. However, Kyle Lowry had a decent outing, as he produced 22 points, seven rebounds and eight assists.
DeRozan is well aware of his dire outing in Game 1 and the 24-year-old is hoping to make a bounce back in the forthcoming tie. "It's tough," DeRozan said. "You have a tough game you're used to getting right back out there and making up for it."
Raptors coach Dwane Casey has already called it a "must-win" game and he would be hoping that his team does not repeat the same errors they did in the last game and take care of the ball better in the later stages.
"Brooklyn is a very veteran team, they took advantage of some of the mistakes we made offensively and defensively," Casey said. "Things that we're going to make adjustments on. There are quite a few things on offence, quite a few things on defence that we can definitely do a better job on."
Nets forward Paul Pierce feels that not playing one after the other matches is beneficial for them as they had lost twice in back-to-back encounters this season.
"We haven't been great in back-to-backs all year so thank goodness we don't have to do that," Pierce said. "We have probably one of the worst records in back-to-back games. Maybe that's due to the age of this team, maybe that's just due to fatigue. Who knows? There are none in the playoffs so it's definitely advantageous to us."
Where to Watch Live
The game is scheduled for a 7:30 pm ET (5:00 am IST, 11:30 pm GMT). The game can be watched via live streaming online in the US and the rest of the world HERE.