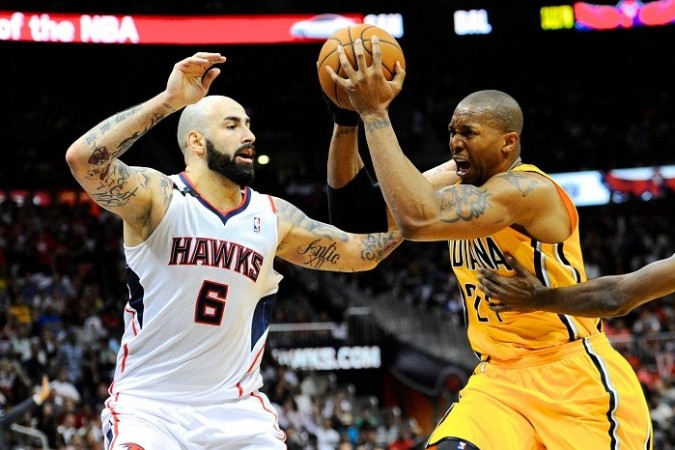 The Indiana Pacers, after winning the fourth playoff gam,e tied the series at 2-2 against the Atlanta Hawks. Indiana played with grit and determination in the fourth game, but they are yet to justify their number one spot, as the eighth-ranked Atlanta have matched them at every level.
In the fourth game, both teams were evenly matched until the end when a late run from Paul George, George Hill and David West put Indiana over the line.
After four games, both sides will be viewing the series as a best-of-three. Indiana have the home-court advantage in next two games, but they cannot afford to take Atlanta lightly, as they were beaten at home in the first encounter.
"Look, this team won two of the last three games we've played in this building and they beat us pretty good," Indiana coach Vogel said. "So we have to stay hungry."
Paul George also said they cannot be complacent in the fifth game after losing the first one at home. "We can't be complacent just because we got home-court advantage back," Paul George said. "We've got to put this game and this series away."
Atlanta has challenged Indiana at every point in the playoffs, they have been a potent offensive unit with a number of three-point shooters. But in the last three games, the Indiana has managed to slow them down.
However, the Hawks are hoping to regain their momentum as they are the only team which has managed to top the Pacers on its home court.
"We'd all feel better if it was 3-1 and we maintained home-court advantage," Hawks coach Mike Budenholzer said. "That's what you're playing for and when you go out to compete, that's your ultimate goal."
It has been some time since Indiana registered back-to-back victories, but coach Vogel is expecting his team to step up and register consecutive wins in the series.
"We did talk about how the first team to win two games in a row usually wins the series," Vogel said. "We've got an opportunity to do that tomorrow night."
Where to Watch Live
The game is scheduled for an 8:00 pm ET (5:30 am IST, 12:00 pm GMT) start. The game can be live streamed HERE.