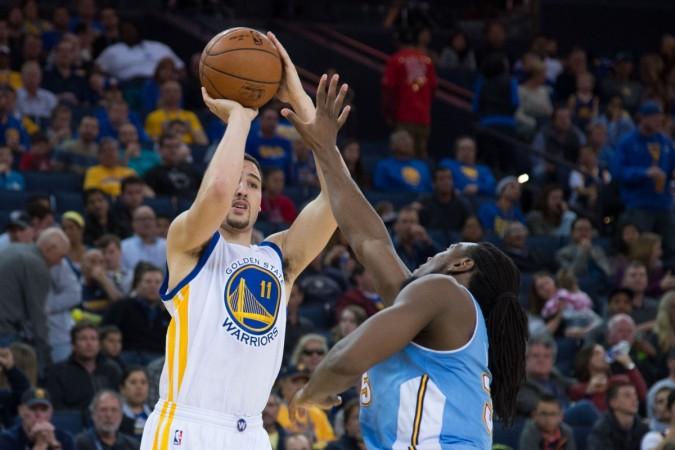 When Atlanta Hawks take on the Golden State Warriors later tonight, it could be a dress rehearsal for the NBA finals, as both teams have been ominous in the regular NBA season.
The Hawks and the Warriors are the only two teams, who have already made it to the Playoffs from the Eastern and Western Conference respectively. The Hawks have won an impressive 53 games and lost 14, while the Warriors draw an almost similar picture with 53 wins and 13 losses.
With such records, they stay atop their respective conference.
The match is going to be one an entertaining one, as not only the teams are in fine form, but both the teams possess an array of stars, who have taken the NBA season by storm.
The Atlanta Hawks have been blessed with players such as Al Horford, Paul Millsap, Kyle Korver, Jeff Teague just to name a few.
Millsap and Teague have been the star players for Hawks this season with 16.9 and 16.6 points per game respectively, but they would be missing their key player Korver against the Warriors.
Meanwhile, Warriors would also be missing their star player, Klay Thompson, who have been averaging an impressive 21.9 points per game. Hence, the Warriors would to a large extent depend on the services of Stephen Curry, who has been nothing short of phenomenal this season, where he averages 23.5 points per game.
But, Draymond Green has also been decent during the season averaging 11.7 points and 8.2 rebounds. The Warriors would be expecting Curry and Green to fire on all cylinders at home.
The Warriors have been a strong team at home, as they have only lost twice, so the Hawks are aware of the tough task that lies ahead. However, the Hawks have also been decent with a 23-10 win loss record on the road.
Hawks coach Mike Budenholzer knows about the importance of winning on the road, which is not easy.
''Winning on the road is something that's really hard in our league,''AP quoted Budenholzer.
''I think it takes a little bit of mental toughness. You have to have more attention to detail, you have to be more together. It's important to establish that you can win on the road. Ultimately if you're going to have success in the playoffs, you're going to have to win on the road.''
Though the Warriors would be at home, it would be really interesting to note if the Warriors would be able to cope without Thompson?
Where to Watch Live
The game is scheduled to start at 10:30pm ET (8am IST and 2:30am GMT) with live TV coverage on ESPN in the US.
Indian viewers would be able to watch it Live on Sony Six.
Viewers around the world can stream it live on NBA.com.