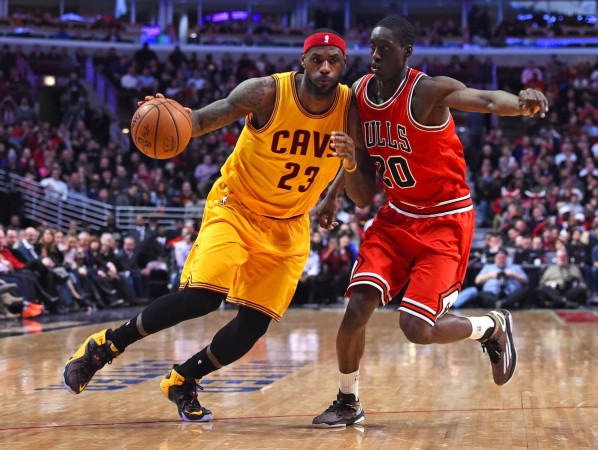 Prior to the All Star break, Cleveland Cavaliers were on a huge roll as they were putting some amazing wins under their belt with 8-2 win loss record in their last ten NBA games.
The Cavaliers would be more than eager to maintain the same run as they face Washington Wizards later tonight at Verizon Center, Washington.
The Wizards have also been impressive with their performances as they lie on the fourth position of the Eastern Conference with 33 wins and 21 losses. Cavaliers are not far off as they stand in the fifth position with 33 wins and 22 losses.
Wizards have an even more impressive record at home – 20 wins and 8 losses -- while the Cavs do not have a good record on the road, 12 wins and 13 losses. But, the way LeBron James has shaped up in recent matches, he could single-handedly help the Cavaliers win the game.
James is very happy with the roster of his team. "We can win a championship with this roster. A team that is healthy at the right time and clicking at the right time can make a huge push. Does it guarantee you that? Of course not, but we have the roster that can challenge any team out there," AP quoted the player as saying.
Cavaliers have looked a confident team of late, which was not the case a few months earlier as they had not started the league the way they wanted.
The team has already set their sights on the Playoffs as well. They have the right to do so as they have been playing some great basketball and entertaining their fans in the process.
"In order for us to get to where we want to be, we have to challenge ourselves," James said.
"We can't catch Chicago, Washington, Toronto, Atlanta as far as the playoff experience and chemistry. It's how we can maximize our potential instead of worrying about everybody else."
Though Wizards might be placed above Cavs on the standings table, Wizards' coach, Randy Wittman is aware about the high quality of basketball being enjoyed by the Cavaliers.
"They're playing at a high level now. They're healthy," Wittman said. "They're about where everyone thought they'd be heading into this year. It's a team that's playing on all cylinders.
"We just have to keep plugging forward. We know what we have to do to be successful."
Where to Watch Live
The game is scheduled for 8:00pm ET (6:30am IST, 1:00am GMT) start with Live TV coverage in the US on ESPN.
The game can be watched via live streaming online by audience across the world on NBA.com.