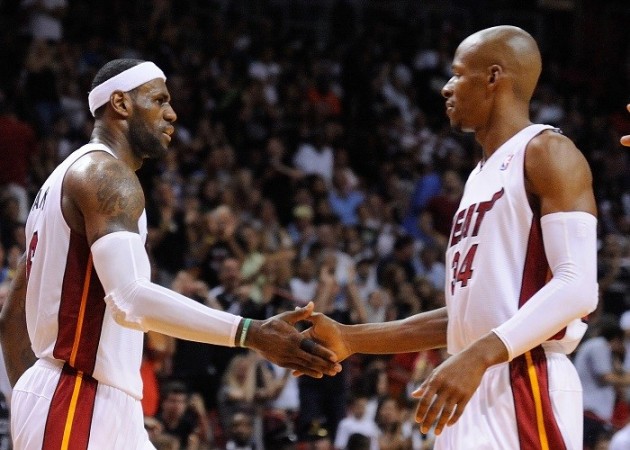 Miami Heat will look for their first win over the Brooklyn Nets this NBA season on Tuesday, when the two teams meet at the American Airlines Arena.
Brooklyn has come out on top on all three games against the Heat this season, and they will be looking for their first season sweep over Miami, the leaders of the Eastern Conference, in 11 years.
The Heat are coming off a 102-91 win over the New York Knicks, where they had to pull out all the stops to prevent the Knicks from garnering a much-needed victory.
"We're going to be in situations like that in the playoffs pretty soon, and the trick is just to stay confident and stay with what you're doing," Miami's Chris Bosh said. "It's a difficult thing to do, but we're getting good preparation for it right now, it's good practice.
After the hard-fought victory over New York, Miami, no doubt, will be confident of breaking the hold the Nets seem to have over them this season.
"I'm looking forward to playing these guys," Miami's Chris Bosh said. "Nobody sweeps us. It will make for an interesting mix of intensity.
Miami, who might have to do without Dwayne Wade again, has lost by scorelines of 101-100, 104-95 and 95-95, with the latest one coming last month. "It's in the past," forward Udonis Haslem said. "It's a new challenge. We're focused on what we can do now to win the next game.
"We understand what our record has been against those guys. But we don't use that in any way moving forward. We try to put those games behind us."
Both teams are on decent runs at the moment, having won four of their last five games, with the Nets welcoming back Kevin Garnett, after 19 games out due to back spasms, in their last game - a 105-101 victory over the Philadelphia 76ers.
"I thought he was great," Nets coach Jason Kidd said of Garnett, who scored 10 points in 13 minutes, making five of his six shots. "He looked like he didn't miss a day."
Garnett, though, will be rested for the game against the Heat on Tuesday as Kidd looks to get his veteran player ready for the playoffs.
Where to Watch Live
The game is scheduled for an 8 pm ET (5.30 am IST) start with live coverage on TNT in the US and Sony Six in India. The game can be watched via live streaming online in India and the rest of the world HERE, while US viewers can live stream the action HERE.