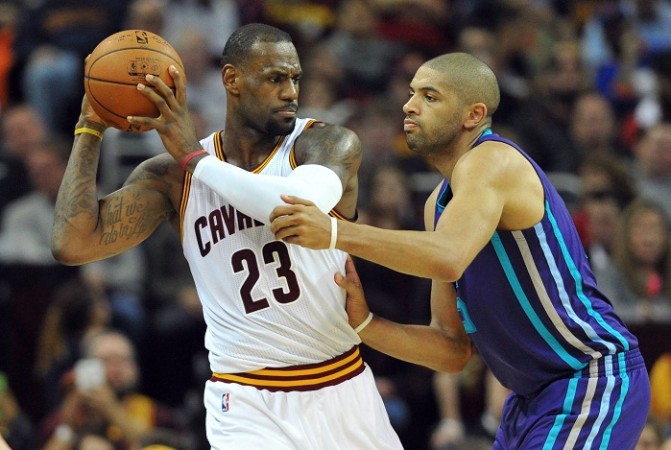 An interesting battle is on the cards with the top two teams of the Eastern Conference — Cleveland Cavaliers and Toronto Raptors — set for a huge clash Friday at Air Canada Centre.
The Cavaliers stand atop the table with 41 wins and 15 losses, while the Raptors are not too far away, playing some exquisite basketball and winning 38 with 18 losses.
However, the Cavaliers are going to be their biggest test, and a win against the LeBron James-led side are going to be a huge boost for the Raptors, who will want to have a great post-regular season as well.
James, Kevin Love and Kyrie Irving have been Cavaliers best players in the season, making incredible plays and delivering when the team needs them the most. James has been their standout player, averaging 24.7 ppg. Irving (18.9) and Love (15.9) have also delivered for the Cavaliers so far this season. These are the performances that have helped them to the top of the table and dominate other teams in the process.
In James, they have a solid leader who can help the team start the game brightly, and from there on, Irving and Love can gradually start their dominance.
Cavaliers coach Tyron Lue is excited to have James in his side, as he can carry the team on his shoulders, as was witnessed against Charlotte Hornets in their last fixture, in which he scored 23 points.
"It was fortunate for us that LeBron was able to attack early and set the tone for us," AP quoted Lue as saying.
Though Cavaliers might have come up with some impressive wins after the All-Star break, defeating Chicago Bulls, New Orleans Thunder and others, Raptors will not be an easy team to face.
Raptors have looked an impressive team of late, winning three matches on a trot. They are going to depend on the services of DeMar DeRozan and Kyle Lowry, both of whom have been pretty amazing this season.
DeRozan averages 23.5 ppg while Lowry has been equally efficient with 21 ppg. With James and Irving as their opponents, the contest cannot get any better than this.
The home team fans will be eager to see DeRozan and Lowry come with their A-class performance to help the team emerge victorious and challenge the Cavaliers for the top spot in the conference. With Raptors having only suffered six losses at home, the Cavaliers are not going to find it any easy at the Air Canada Centre.
DeRozan and Lowry combined for 52 points in their last game against Minnesota Timberwolves to help them emerge victorious.
"It was a gutsy win. We found a way to win defensively and DeMar DeRozan made some big plays down the stretch," Raptors' coach Dwane Casey said.
If the duo combines once again, the Cavaliers are in for a long night in Toronto.
Where to watch live
Toronto Raptors vs Cleveland Cavaliers live NBA game is scheduled for 7:30 p.m. ET (6 a.m. IST) start with live TV coverage in India on Sony Six while the live streaming is available on Sonyliv.
There is no live coverage for US viewers on National TV.
Viewers around the world can watch all the NBA live action by live streaming on NBA Online.