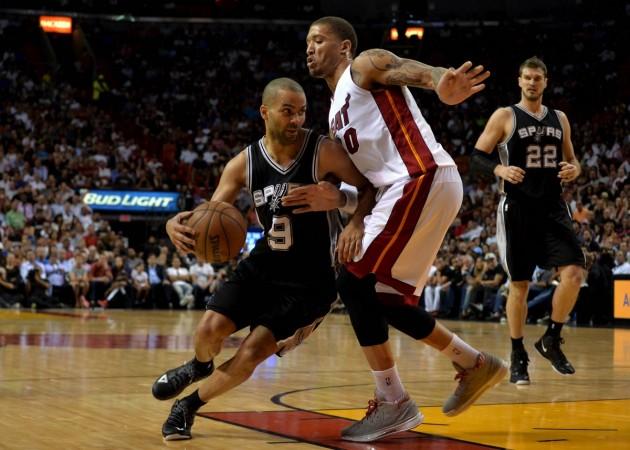 Things could not have looked any better for the San Antonio Spurs, who have clicked at the right time just ahead of the Playoffs.
They have been the best team in the league so far with nine consecutive victories. No team has been able to stop their winning streak. They have blown away teams, which are way above them in the Western Conference including Golden State Warriors and Memphis Grizzlies.
Spurs would be looking for their 10th successive win when they face Houston Rockets on Friday at Toyota Center. The Rockets have a good home record with 28-10 win loss record.
The Rockets presently lie in the third position of the Western Conference and have been in decent form with seven wins in their last 10 matches. They have won 53 matches and lost 25.
Things could better for the Rockets if they win against the Spurs, as they have a chance of climbing up the standings table, depending upon Grizzlies' result against Utah Jazz. The Rockets could take advantage over some tired legs of the Spurs' players, as they have played a number of games during the month.
One of the star players for the Rockets, James Harden, who has been in some amazing form, does not want to think about the competition and the standings ahead, rightly so, if their team performs, standings will be taken care of automatically.
''We've just got to play our basketball,'' AP quoted Houston guard James Harden. ''Not worry about what's going on in the standings and things like that; just focus on ourselves and we'll be all right.''
The Rockets lost their last game against the Spurs with the score reading 98-110. They would be determined to do well in back-to-back games against the Spurs.
One of the most experienced player for the Spurs, Tony Parker, feels it is going to be a big game in Houston.
"It's a big one in Houston, obviously it's going to be a great test for us because (the Rockets are) going to be a little bit mad and they're going to play with a lot of energy and we're gonna have to match that, and it's going to be, like I said, a great test before the playoffs," said Parker.
Tony Parker averages 14.5 points per game during the season, but it is Kawhi Loward, who has been their best player this season with 16.5 ppg.
Where to Watch Live
The game is scheduled to start at 8pm ET (5:30am IST and 12am BMT) with live TV coverage in the US on NBA TV.
Viewers around the world can stream it live on NBA.com.