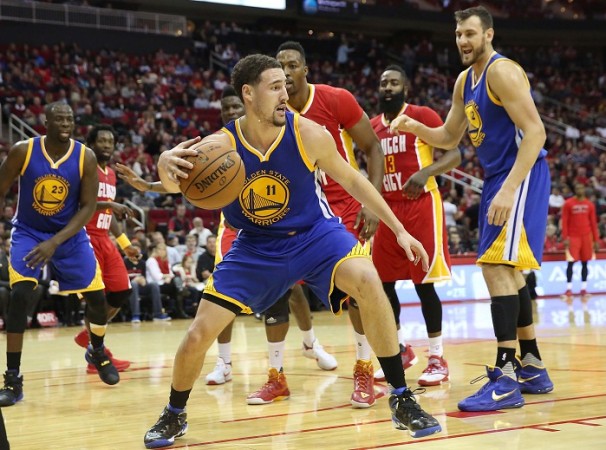 Irrespective of the team Golden State Warriors comes up against, they are favourites to win the contest, and when their next fixture reads a game against Phoenix Suns at Talking Stick Resort Arena on Wednesday, the Warriors' chances of emerging triumphant increases manifold.
The Warriors and Suns have contrasting record as the former is the number one team in the Western Conference while the latter are the second last. Even their recent records are poles apart, with the Warriors having won their last ten games and the Suns have lost their last eight.
The Warriors, it goes without saying, are a confident side as they have only lost four times this season. With players such as Stephen Curry, Klay Thompson and Draymond Green, they have a strong trio to make their opponents sweat.
They were expected to come up with a determined Houston Rockets on Tuesday night, but the Warriors looked a better team, defeating their opponents 123-110. They have been destroying teams with relative ease was witnessed against the Rockets. No wonder basketball experts have already tipped Warriors as favourites to defend their NBA title.
Despite dominating the league, Warriors star Stephen Curry believes that his team can still play better, and that could be dangerous signs for their rivals like the San Antonio Spurs and Cleveland Cavaliers.
''We can definitely play better and just sustain our level of play and be more consistent over 48 minutes. It's hard,'' Curry was quoted as saying by AP.
''As long as you keep that at the forefront and challenge yourselves, that's what hopefully inspires to continue to get better."
"It's not going to be pretty every minute we're out there, it's not going to be perfect, we're not going to blow everybody out. But we strive to be great every night.''
Curry has been their standout player in the league this season and is expected to play an integral role against the Suns, who need to find ways to stop Warriors number 30.
Despite Suns' below par performance, they are not going to give up easily. Coach Earl Watson believes they are getting better with each and every game.
'I think you see our team, we're growing, we're getting better. We're not discouraged. We won't be discouraged,'' Watson said.
Where to watch live
Phoenix Suns vs Golden State Warriors live NBA game is scheduled for 9 p.m. ET (7:30 a.m. IST, 9 a.m. Philippines) start. There is no live TV coverage in India.
There is no live national TV coverage in the US.
However, viewers around the world can watch all the NBA live action by live streaming on NBA Online.