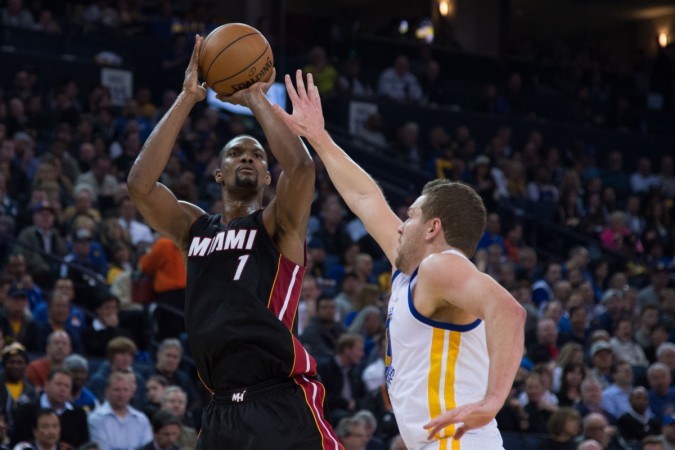 On present standings, Miami Heat would make it to the Playoffs as they lie on the seventh position in the Eastern Conference, while their opponent for tonight, Philadelphia 76ers look down and out in the second last position.
But, the Heats have received a major setback as it was revealed that their star player, Chris Bosh would miss the remainder of the season due to blood clot in his lungs.
Chris Bosh has been one of their best players in the season so far for the Heats, as he averaged 21.1 points per game along with seven rebounds.
It is not only his stats, which talks about his importance, but his presence in the court is something his fellow team mates would miss for the remainder of the season.
The Heats should be confident when they host Sixers, though the Heats have also not been very impressive of late as they have only won three of their last 10 games.
Now, players such as Dwyane Wade and Mario Chambers need to step up their game.
"We're losing somebody who does so much for us on both ends of the floor," Dwayne Wade said on Chris Bosh's loss, as quoted by AP.
"We have to get used to the idea of him not playing for the rest of the season."
Wade and Bosh had formed a wonderful partnership coming up with big wins against top opponents. Wade has been in good form during the season as well with 21.1 points and 5.2 assists. Will Wade be able to carry the Heat on his shoulders in Bosh's absence? Only time will tell.
Philadelphia 76ers have been dismal as their record suggest in the league during the season. They have just won 12 games in the season with 43 losses and to make it worse, their form of late has also been equally bad where they have lost three games in a trot.
Their last victory came against Charlotte Hornets on 8 February where they won 81 to 89, after which they have lost to Golden State Warriors, Indiana Pacers and Orlando Magic.
They have failed to score more than 100 points in their last five games, which seems to be a major worry.
The Sixers might breathe a sigh of relief as Bosh would not be playing against them who tormented the Sixers when they played last time in November. Bosh scored 30 points and helped the Heat win convincingly, 114 to 96.
Where to Watch Live
The game is scheduled to start at 7:30pm ET (6am IST and 12:30am GMT) with no Live TV Coverage in the US.
Viewers around the world can stream it live on NBA.com.