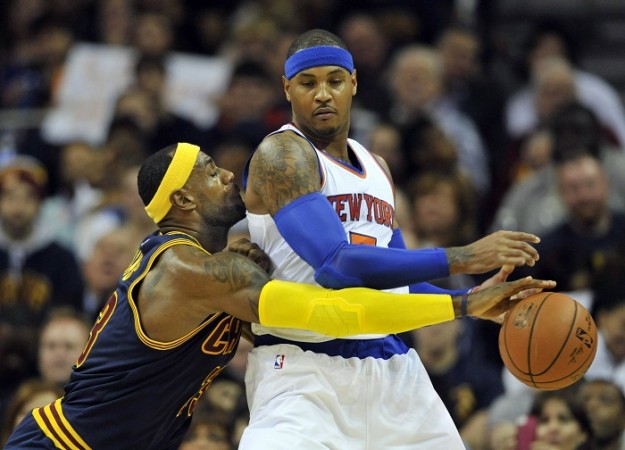 Things have not moved smoothly for neither the New York Knicks nor Miami Heat in the NBA during the season, as they have been struggling with a string of dismal performances.
The Knicks travel to American Airlines Arena to take on the Heats later tonight.
Miami Heat vs New York Knicks was supposed to be a keenly awaited affair, but things have changed gradually, as Knicks lie in the last position of the Eastern Conference, while Miami are battling it out for the playoff spot.
The Knicks have been a huge disappointment inspite of possessing one of the best players of NBA -- Carmelo Anthony.
Anthony has been their best player during the season with 24.1 points per game.
However, the New York Knicks has only won 10 games while losing 41 this season, which is the worst record in the league so far. With such a record, their dreams of playing in the playoffs this season are more or less over.
For Miami, they can still go through, provided they finish the regular season on a high. They have won 21 and lost 29 games during the season.
Knicks have a dismal record on the road with 3 wins and 22 losses, while the record of the Heat is also not great at home, where they have lost 15 games and only won 8.
The Miami Heat may be playing at home, but they will be without their star player, Dwyane Wade, who has already missed five games due to hamstring problems.
Erik Spoelstra, the head coach for Miami is just happy that the player is back in practice. "I'm not even thinking about [the game against the Knicks], I'm not even thinking about Wednesday in Cleveland but he's out here with his teammates working and leading," Spoelstra was quoted as saying by AP.
Miami look a threat on the court with Wade in the floor.
Neither team will be confident when they play at American Airlines Arena, for they both come into the game with three successive losses.
The Knicks lost their last game against Golden State Warriors with the score reading 106-92, while the Miami Heat lost their game against San Antonio Spurs 98-85.
Despite having lost three on the trot, Chris Bosh feels that they can move forward if they win their home game against New York. "We just really need to focus on [Monday] and get this win," he said.
"It's one there for us at home. We can move on from there."
If they are to beat the Knicks, Bosh needs to come up with a good game. He has been their best player this season, averaging 21 points per game.
Where to Watch Live
The game is scheduled for 7:30 pm ET (6:00 am IST, 12:30 am GMT) start with no Live TV coverage.
The game can be watched via live streaming online by audience across the world on NBA.com.