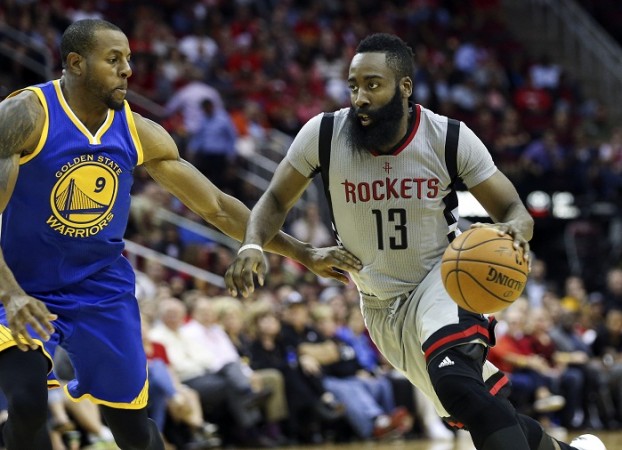 Houston Rockets were one of the outstanding teams in the last NBA regular season, but they been a shadow of themselves in their first two matches this season with huge losses to Golden State Warriors and Denver Nuggets.
One would have understood if they had put up a decent show and still lost, but the Rockets lost both the matches by 20 points, which is embarrassing. They need to get things back on track when they face Miami Heat at the American Airlines Arena on Sunday and hopefully, earn their first win of the season.
The Heat, on the other hand, after winning their season opener against Charlotte Hornets, lost to Cleveland Cavaliers. The Heat have looked good in both their matches despite their defeat to Cavs. All their players are contributing decently and with players such as Dwyane Wade in their line up, they can make any team in the NBA taste defeat.
Apart from Wade, they also have some big players such as Chris Bosh, who will be an important player for the Heat this season. The Heat will be eager to set their record straight this season as they failed to secure a Playoff berth last season. The duo of Wade and Bosh will need to be on top of their game against the hungry looking Rockets side.
Rockets' star player, Dwight Howard, who played an instrumental role in helping his team reach the conference finals last season, wants his team to forget about their achievements and concentrate on the season ahead.
"The two losses is something that we needed. We needed a wake-up call. We need to humble ourselves, come in here and practice and forget about what happened last season, forget about any accolades that we won in the past. It doesn't matter. The only thing that matters is this moment," ESPN quoted Howard as saying.
Apart from Howard, it was James Harden, who had set the NBA ablaze with his individual performances every week in and out last season. However, Harden has not been able to come up with such performances in his last two games.
Harden wants to pick up his game against the Heat.
"Now we got to lock in and get to business. No more cooling around, we're too cool. Even myself as a leader, I have to pick up my mojo a little bit. We'll be alright though," said Harden.
If Harden gets his act going, Wade and co will need to come up with a special performance to stop the Rockets from winning their first game of the season.
Where to watch live
Miami Heat vs Houston Rockets live NBA game is scheduled for 7pm local time (4:30am IST) start. There is no live TV coverage for the match in India.
International viewers, including India, can watch all the NBA live action by live streaming on NBA Online.