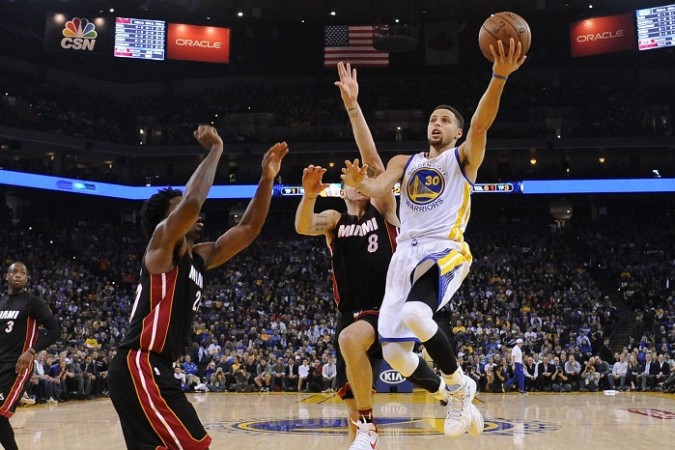 Miami Heat are huge favourites when they play in front of their home fans in American Airlines Arena, but things change when they come up against a team like Golden State Warriors, who have been the best team in the league this season. Miami Heat are the underdogs in the mega contest, scheduled for Wednesday.
The Warriors, following their defeat to Portland Trailblazers after the All-Star break, have looked ruthless, as witnessed by Los Angele Clippers and Atlanta Hawks, who suffered losses in their last two matches. Warriors are looking for their third straight win.
There is an air of confidence when the Warriors ply their trade on the court. The Warriors are always on the top of their game with players such as Stephen Curry, Klay Thompson and Draymond Green in full control. The trio rarely fail. One of these players always delivers during the night to help the team emerge triumphant.
The Warriors have registered an amazing 50 wins this season, and lost five games only. No wonder, critics and fans have already outlined the Warriors as favourites for the NBA title. Despite such a tremendous record, Warriors' star Curry does not want to think about the title.
''We're staying in the moment,'' AP quoted Curry as saying.
''It's a special group, and we understand the potential we have, but let's not get ahead of ourselves. Fifty wins is great, but we've got to keep plugging away and staying hungry, because no one wants to talk about that in June.''
Make no mistake, Miami Heat are not an average team. They are one of the strongest teams in the NBA, as they lie on third position in the Eastern Conference. Their record, after the All-Star break, has been mighty impressive, with three wins on a trot, scoring more than 100 points.
With players such as Goran Dragic and Dwayne Wade, the Heat have what it takes to hand Warriors their only sixth defeat of the season, but the duo needs to come with their A-game to create an upset. However, Heat are set to miss another of their stars, Chris Bosh, who has been ruled out with a blood clot.
Heat coach Erik Spoelstra believes each and every team has to give it all if it wants to emerge victorious against the Warriors.
''You want to be measured and tested as a competitor,'' Spoelstra said
''You're playing against the best. This is what you want. This is why we're in the business. We're not here just to play games where you're given a result. That's not this business. They've earned the respect and gotten to require that you play your best game.''
Where to watch live
Miami Heat vs Golden State Warriors live NBA game is scheduled for 7:30 p.m ET (6 a.m. IST, 8:30 a.m. Philippines) start with live TV coverage in India on Sony Six while the live streaming is available on Sonyliv.
There is no live coverage for US viewers on National TV.
Viewers around the world can watch all the NBA live action by live streaming on NBA Online.