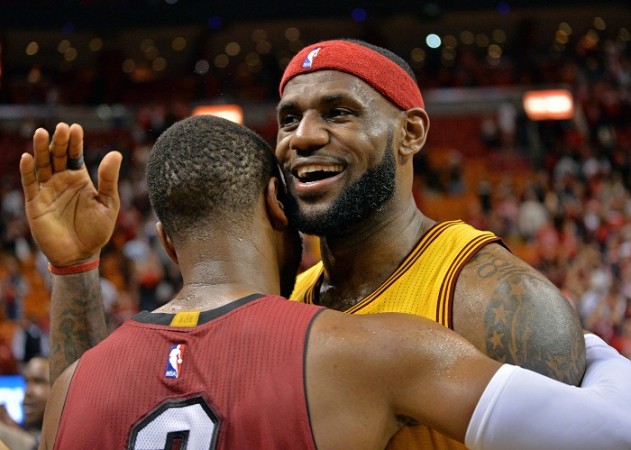 Los Angeles Lakers and Cleveland Cavaliers, two NBA teams with contrasting records of late, are set to slug it out at the Quicken Loans Arena on Sunday night.
The Cavaliers are in the midst of a purple patch with nine wins in their last ten games, while Lakers have looked down and out with one win and nine losses in as many games.
The Lakers are placed second from the bottom of the Western Conference standings table with 13 wins and 37 losses; something that their fans have not been accustomed to.
Cavs find themselves at fifth place with 31 wins and 21 losses.
Having come up short against Indiana Pacers in their last game, the Cavs are still expected to beat an out-of-form Lakers.
LeBron James, one of the star performers for Cavaliers, is a doubtful starter for the clash after injuring his right wrist and ankle against the Pacers. He had 25 points, five assists and six rebounds during that game.
James felt that their team should have defeated Pacers. "I thought we had a really good chance to win this game tonight," he was quoted as saying by Associated Press.
"They played an excellent game. I watch a lot of their games and they don't normally make shots like they did tonight. Later in the game we didn't execute like I believe we're capable of doing. We gave up too many points and a lot of them came in the fourth quarter."
But it was Kyrie Irving who impressed with his shooting with 29 points and five assists. He alongside Kevin Love needs to come up with a similar game if James fails to be fit for the game.
Apart from offensive play, the defensive tactics have also made the Cavs a force to reckon with.
After their defeat to the Pacers they might be determined to prove a point in the game against Lakers.
Lakers also lost their last game against Orlando Magic 97-103. But Lakers coach Byron Scott took some positives from their defeat in a game which went to overtime, and which they in fact should have won.
He said, "The guys are not in there having a party right now because we lost the game because they think it's going to help us get a better draft pick."
"They're in there right now (sic) upset because they know that we let a game get away. If I have guys in there right now that's partying, they won't be here next year anyway," Scott added.
Where to Watch Live
The game is scheduled for 3:30 pm ET (2:00 am IST, 8:30 pm GMT) starting with Live TV coverage on ABC in the US.
The game can be watched via live streaming online by audience across the world on NBA.com.