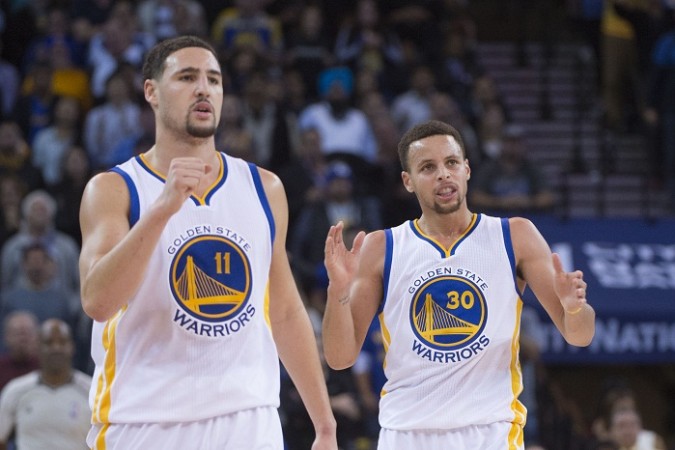 The Golden State Warriors' performance at home has been brilliant: They have won all their games this season so far. They will be keen to maintain such a stupendous form Wednesday, when they face Utah Jazz at Oracle Arena in Oakland.
The Warriors defeated Orlando Magic in their last game, with the score reading 119-113, but their performance was not satisfactory. The Warriors set high standards for themselves. Turnovers have been a major problem for the Warriors of late, and it can prove costly against big teams. Such kind of weak links need to be corrected before the playoffs, as they strive for a flawless performance.
Warriors' coach Steve Kerr has warned his team ahead of the game against the Jazz. "Yeah, 46 turnovers in the last 36 hours, inexcusable," AP quoted Kerr as saying.
"I think the team leading the league averages 12 or 13 a game, so some are going to happen, but I can rattle off 10 easy that were just inexcusable. Sometimes the game comes too easy for our guys and they just think they can do anything."
The Warriors have some time before the playoffs, and can correct such things with around 20 matches still left in the regular season.
They have been performing so well throughout the season, and the credit goes to Stephen Curry, who is enjoying a wonderful offensive season. The star players averages 30.7 ppg this season. He has been strongly supported by Klay Thompson, with his strong shooting from beyond the arc.
"We are winning and Steph is bailing us out an awful lot," Kerr said. "We need to get back to being the best defensive team in the league, which we were a year ago - which we are not right now anywhere close to."
With such performances from Curry, Warriors were the first to qualify for the playoffs. However, their opponents, Jazz, stand a chance of qualification as well. The Jazz currently lie ninth in the Western Conference standings, and only top eight teams get a spot in the playoffs.
The Jazz are definitely in with a great shout, but it is in games against the Warriors where they need to show their best, as it can help them play an important role in building their confidence. But their record in their last seven games with one victory does not augur well for Jazz if they are to realise their playoff ambitions.
Jazz's Derrick Favors and Gordon Hayward have to stand up and look to achieve something that has never happened this season – defeat the Warriors at Oracle Arena.
Where to watch live
Golden State Warriors vs Utaz Jazz live NBA game is scheduled for 10:30 p.m. ET (9 a.m. IST) start. There is no live TV coverage in India. Also, there is no National TV coverage in the US.
However, viewers around the world can watch Golden State Warriors vs Utaz Jazz live NBA game by live streaming on NBA Online.