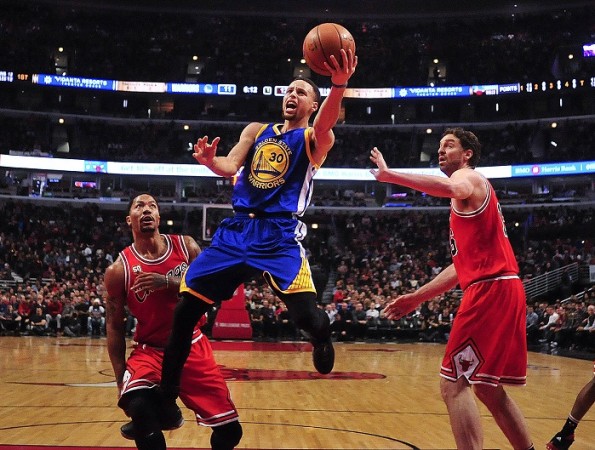 Golden State Warriors, who have not lost a single game at home, face their biggest test against San Antonio Spurs at the Oracle Arena on Monday, as they look to maintain their unbeaten 20-0 home streak.
The match promises to be entertaining, as these are the top two teams in the Western Conference. The Warriors stand on top with 40 wins and four losses while the Spurs have been equally impressive with 38 wins and six losses.
The Spurs have looked an even amazing team of late with 13 victories on a trot, hence the Warriors, despite their home record, are aware of the tough task of maintaining their clean home record. The Warriors, on the other hand, have lost twice in their last eight games, but have demolished big teams such as Chicago Bulls, Cleveland Cavaliers and Indiana Pacers in their last three games. The Warriors will be keen to add the Spurs in that list of recent victories.
Former Spurs' player Steve Kerr, who is the head coach of the Warriors, is relatively surprised his team has not played the Spurs so far this season.
'WThat's going to be one of the fun things about this game is that we haven't played them yet. It's already almost February. It's a strange schedule,'' AP quoted Kerr as saying. ''Win or lose, both teams will really benefit from playing against each other.''
The Warriors and the Spurs are favourites for the NBA title and are also expected to clash in the finals of the conference playoffs. However, both teams will not be thinking of the playoffs at present, but maintaining their terrific record so far in the season.
With an array of stars in both camps, one cannot wait for the game to begin. The Warriors will depend on their reigning MVP, Stephen Curry, who has been the standout player, Klay Thompson and Draymond Green.
''It's going to be a fun game. It's just another regular-season game against a great team that we have to protect home court. In order to do that, we've got to be at our best for sure. You've got to assume they will,'' said Curry.
Though the Warriors are not going to miss their key stars, the Spurs will miss their key man, Tim Duncan, who has been ruled out of the crucial game with "knee soreness". So, other players such as LaMarcus Aldridge, Manu Ginobili and Kawhi Loenard need to be on their top game to hand the Warriors their first loss at home in the season.
Where to watch live
Golden State Warriors vs San Antonio Spurs live NBA game is scheduled for is scheduled for 10:30 pm ET (9 am IST, 11:30 am Philippines) start with live TV coverage in India on Sony Six while the live streaming is available on Sonyliv.
US viewers can watch the Golden State Warriors vs San Antonio Spurs live NBA game in the US on NBA TV.
Viewers in Philippines can watch the game live on NBA Premium.
Viewers around the world can watch all the NBA live action by live streaming on NBA Online.