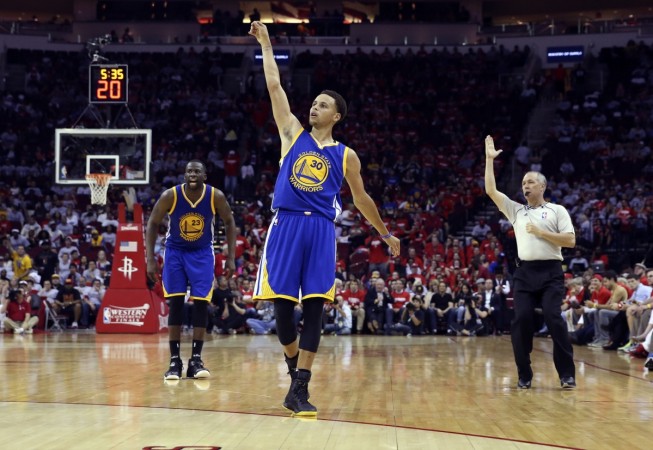 Despite an incredible NBA season, the Golden State Warriors will be hungry to win. The Warriors have defeated some top class teams with a ridiculous ease, but their recent loss to Los Angeles Lakers (95-112) will make them even more determined to perform better.
With Warriors keen to prove that they are the best team in the conference, which no one doubts, they are going to come with their best performance against Orlando Magic at Oracle Arena in Oakland on Monday.
When the two teams met last in February, Warriors displayed their offencive skills to the hilt, scoring 130 points, to help them secure a comfortable win. The Warriors will be keen to come up with a great offencive game once again, for which they need their stars, Stephen Curry and Klay Thompson, to deliver. The duo also did not play upto their potential against the Lakers.
Their loss against Lakers, probably, must have come at the right time for the Warriors, who will understand the need to play quality basketball against all opponents. No team is weak in the NBA. This should be a perfect wake-up call for the NBA champions.
Warriors coach Steve Kerr believes that their team could not focus against the Lakers.
''We got what we deserved,'' AP quoted coach Steve Kerr as saying.
''I joke with Steph all the time that this team is full of millennials, and millennials can't focus, so we looked like millennials today. ... But every team is going to have a tough time being locked in for 82 games. It's hard.''
Though the warriors lost against the Lakers on the road, their home record have been impeccable, winning all their games (26) this season. With Oracle Arena turning sea of yellow, no team has been able to silence the home crowd.
Magic, on the other hand, are aware who they are facing – wounded Warriors, who are not going to give them an inch. Let alone this game, Magic are in serious need to take their game to another level and climb up the standings to play in the playoffs. They are at 11th position at present.
To make matters more difficult, Magic have been below par on the road, losing 18 matches so far, and only winning 10 games. They can make it 11 only if their star players, such as Evan Fournier and Nikola Vucevic, deliver their best against the Warriors. Key player Victor Oladipo is expected to feature against Warriors.
Where to watch live
Golden State Warriors vs Orlando Magic live NBA game is scheduled for 10:30 p.m. ET (9 a.m. IST) start with live TV coverage in India on Sony Six while the live streaming is available on Sonyliv.
There is no National TV coverage in the US.
Viewers in the Philippines can watch the Golden State Warriors vs Orlando Magic live NBA game on NBA Premium.
Viewers around the world can watch all the NBA live action by live streaming on NBA Online.