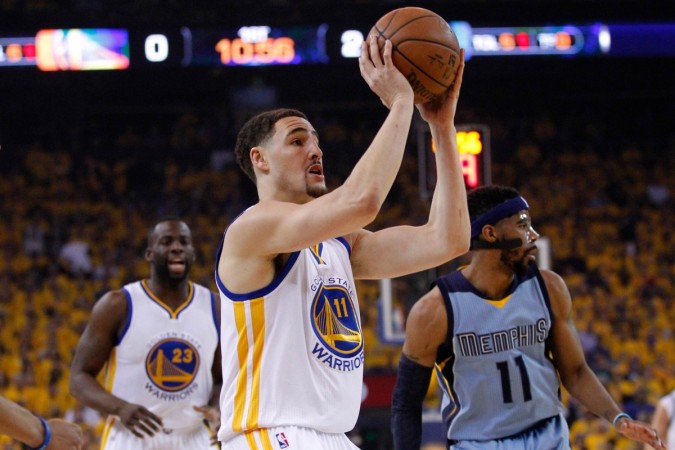 Golden State Warriors are unstoppable at home as top teams of the NBA have found out. They have not lost a single game at home when their players are egged on by the home crowd, who have also got acquainted to winning. With such tremendous record, the Warriors are set to welcome New Orleans Pelicans at Oracle Arena Monday.
The Warriors, who have already qualified for the playoffs, have won their last four matches and will be looking for their fifth straight win, and if Stephen Curry and Klay Thompson get their shooting right, Pelicans can forget about being the first team to register a victory at the Oracle Arena this season.
Coach Steve Kerr is aware the Warriors cannot take any team lightly as their opponents want to break their unbeaten streak at home.
"We've talked about it as a team," the Associated Press quoted Steve Kerr as saying. "Every team we play in here is going to be excited for the opportunity to come in here and knock us off."
Curry and Thompson have been key players for the Warriors this season, and will be huge figures during the playoffs. Curry averages 30.5 ppg while Thompson has been brilliant, averaging 22 ppg. Apart from the duo, Draymond Green has also been impressive for Warriors.
The Warriors received some bad news as one of their players, Andre Iguadala, is set to miss some matches for the Warriors with a sprained ankle, but Curry believes the team has to take it in its stride and continue playing good basketball.
"That's just something we're going to have to get adjusted to for however long he is out," Curry said.
"We'll have to get prepared for that. But at the end of the day, we run the same offense, but it's one less playmaker, ballhandler."
Despite Iguadala set to miss some matches, the Warriors are still one of the best teams around, as they have a good squad.
However, the Pelicans must be aware of the huge task that lies ahead of them. The Pelicans lie on 12th position in the NBA, and need to play some exceptional basketball if they are to reach the playoffs. Though the Pelicans might be keen to hand Warriors their first defeat at home, their away record (7-26) does not help their cause.
Even their last three matches' records look disappointing with three losses on a trot. They have also lost eight times in their last 10 games. However, they have the players who can help the Pelicans turn the tide, but they have to stand up and be counted.
Anthony Davis and Jrue Holiday are such players, but will the duo outshine Curry and Co at home?
Where to watch live
Golden State Warriors vs New Orleans Pelicans live NBA game is scheduled for 9:30 p.m. ET (8 a.m. IST) start with live TV coverage in India on Sony Six while the live streaming is available on Sonyliv.
There is no National TV live coverage in the US.
Philippines viewers can watch on NBA Premium.
Viewers around the world can watch all the NBA live action by live streaming on NBA Online.