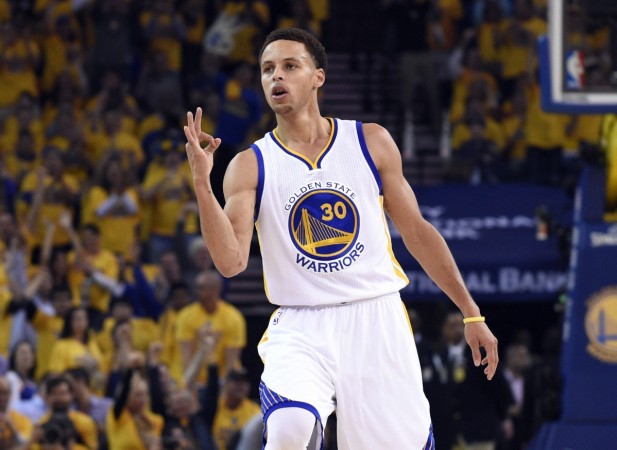 The Golden State Warriors are unbeaten at home this season, and the Indiana Pacers, who are set to travel to Oracle Arena on Friday, will be keen to break their winning streak. However, the visitors, who currently lie fifth in the Eastern Conference, are aware of the humongous task ahead.
The Warriors, who possess players such as Stephen Curry, Draymond Green and Klay Thompson, have been the team to beat in the competition. Their record in the league, with 39 wins and 4 losses, have been the best so far and experts are already talking Warriors as favourites for the NBA title.
Curry and his men have demolished teams like no other, as was witnessed in their last two games when they were pitted against formidable NBA teams Cleveland Cavaliers and the Chicago Bulls. Prior to this, they had suffered two losses in three matches, against Detroit Pistons and Denver Nuggets.
Hence, the Warriors were a determined outfit when they faced the Cavs and Bulls, defeating them with the scoreline reading 132-98 and 125-94, respectively. Curry was happy the way the team bounced back.
"Good teams bounce back quick, and we were able to do that," AP quoted Stephen Curry as saying. "It says a lot about our resilience."
The Pacers, however, have to come up with their A-game if they are to defeat the Warriors. The Pacers nearly blew a 20-point lead against Phoenix Suns in their last game. Pacers' star Paul George, who has been in good form, believes they cannot afford teams to come back so easily in future games.
"This was all about us getting a win and getting back to playing winning basketball," Paul George said. "It was poor closing this game out. We've got to do a better job, but it was a good start to getting back to playing some defence."
The visitors are going to depend on George, who has been Pacers' standout player this season. He averages 23.7 points, 2.0 steals and 4 assists per game. It is such performances that have helped him gain huge fans votes for a starting place in the 2016 NBA All-Star game as well.
Players such as LeBron James and James Harden have failed to stop the Warriors at home. Can George be successful?
Where to watch NBA live
Golden State Warriors vs Indiana Pacers NBA live game is scheduled for 10:30 pm ET (9 am IST, 11:30 am Philippines) start with live TV coverage in India on Sony Six while the live streaming is available on Sonyliv.
US viewers can watch the Golden State Warriors vs Indiana Pacers NBA live game in the US on ESPN with live streaming on Watch ESPN
Viewers in Philippines can watch the game live on NBA Premium.
Viewers around the world can watch all the NBA live action by live streaming on NBA Online.