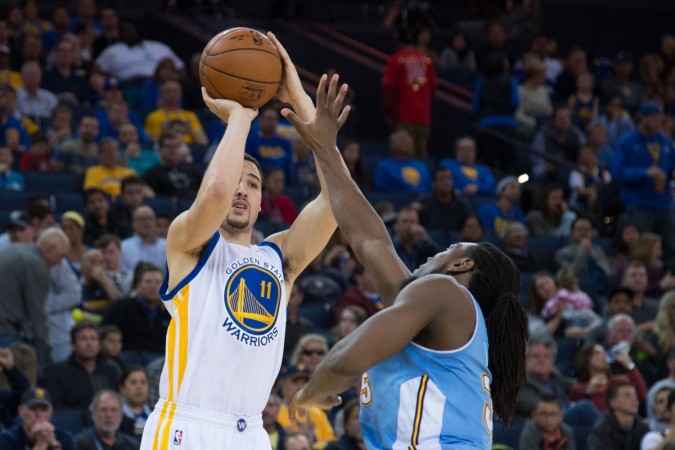 The Golden State Warriors and Atlanta Hawks' clash has been a keenly awaited affair after both the teams have performed splendidly well during the season so far.
It is a battle between the top two teams in the NBA, where Warriors lead the standings table in the Western Conference, while Hawks stand atop the Eastern Conference.
Warriors have lost only eight games in the season so far, while winning an impressive 39 games. The Hawks also enjoy a similar record, which has seen their team win 41 games and only lost nine games.
No wonder, many fans and experts alike have dubbed this a dress rehearsal for the NBA finals.
Golden State coach Steve Kerr feels it is a fun game. But one should not read into his words much, for one knows about the magnitude of the match.
The team that walks away with a victory tonight, would see its confidence soaring to a whole new level.
"It's a fun game, it doesn't really mean a whole lot if we win or lose in terms of the big picture," AP quoted Kerr as saying.
"Both teams are having great seasons. One loss, one win, not sure what that means, but it's a great test and it's a great challenge. ... I think we're all looking forward to it."
The Warriors have been in great form, and with the way Klay Thompson and Stephen Curry have been shooting, the Hawks need to find a way to contain these sharp shooters.
Curry averages 23.6 points per game and 8.1 assists during the game, while Thompson has 22.4 points per game. Their forward, Draymond Green has been great as well with 11.2 points and 8 rebounds per game.
The Hawks might not have a single player, who has dominated the league, but it is their collective effort, which has made them the best team in the Eastern Conference.
Paul Millsap and Jeff Teague have been shooting well this season with 17.1 and 17 points per game respectively.
Al Horford has been good on rebounds with 7 per game along with 15 points, which makes him a dangerous player.
Such has been their performance that the Hawks' starting five were named as the Eastern Conference players of the month, which is first in the league's history.
"I think it's reflective of all the work that everyone's putting in each day," coach Mike Budenholzer said.
"I'm just appreciative of that recognition for their work this last month."
So much is expected from the game; one hopes that the match lives up to all the hype.
Where to Watch Live
The game is scheduled for 7: 30pm ET (6:00am IST, 12:30am GMT) start with no Live TV coverage in the US.
The game can be watched via live streaming online by audience across the world on NBA.com.