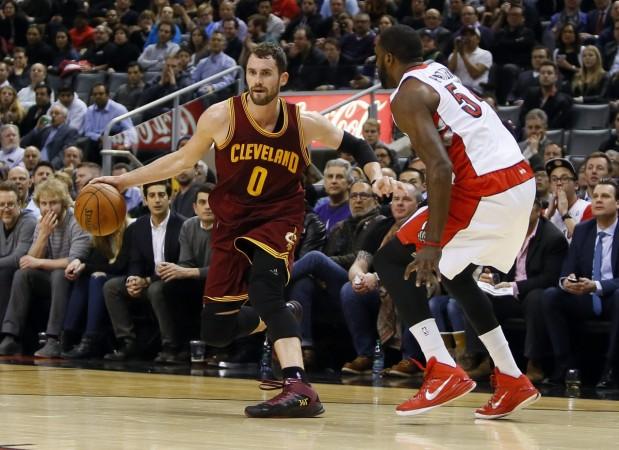 Brooklyn Nets might have won their last two matches, but face a daunting task as they face Cleveland Cavaliers tonight, who have been one of the top teams in the NBA this season.
Though, the Cavaliers lost their last game against the Miami Heat, they are a major force in the league. Such has been their form that many experts have deemed them as favourites for NBA title and if players such as LeBron James, Kyrie Irving and Kevin Love carry on their regular season form to the Playoffs, it would take something special to oust the Cavaliers.
Love is expected to play against the Nets after he missed Cavs last two games including their last game against the Heats, which they lost 92-106.
But, prior to the loss, the Cavs had won four games on a trot, so there is no question about their current form, as their second position in the Eastern Conference suggests 43 wins and 26 losses.
The Nets are eager to play in the Playoffs, but their current standings in the conference draws a sorry picture as they lie on 11th position, but a good run till the end of the season could help them grab the Playoffs spot.
The Nets finished sixth in the last year standings, prior to the Playoffs.
It is against teams like the Cavs, where a victory can only up their confidence and give them the much-required confidence to play their best in the final stretch.
But, the Cavs are not going to make it easy for the Nets, as the Cavs are a strong side at Quicken Loans Arena, where they are backed by their home fans. They have won 24 matches and lost nine games at home, while Nets' on the road record reads 16 wins and 19 losses.
The Cavs are eager to grab the second spot from the conference in the Playoffs. "We have to finish in second place," AP quoted coach David Blatt as saying.
"Where and if there is a chance to rest guys, we will. We certainly want to do as well as we can to finish as high as we can."
After a string of five continuous losses for the Nets, they won two matches on a trot against the Philadelphia 76ers and Timberwolves. Can they win their third match on a trot and spring in a surprise?
Where to Watch Live
The game is scheduled to start at 7pm ET (4:30am IST and 11pm am GMT) with no TV coverage in the US.
Viewers around the world can stream it live on NBA.com.