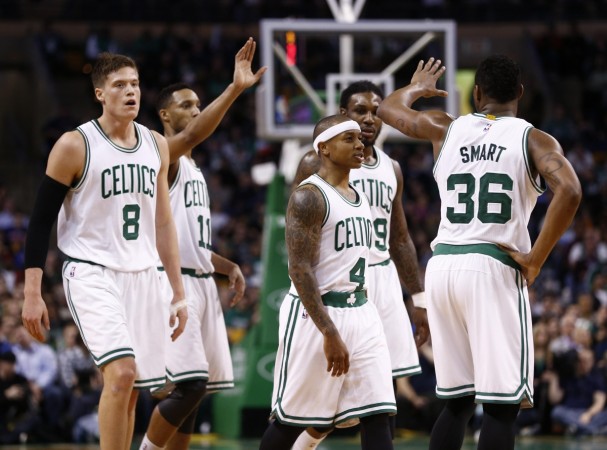 The Cleveland Cavaliers have lost two games in a trot, which was not expected, especially after their recent string of victories. So, they would be eager to get back to their winning ways against Boston Celtics later tonight.
The Celtics have been suffering in the season with 23 wins and 34 losses under their belt and are hence lying on the 11th position of the Eastern Conference. Their opponents, Cavaliers stand comfortably in the fourth position with 37 wins and 24 losses.
Both the teams lost their last NBA Game with Cavs narrowly losing to Houston Rockets, 105-103, while the Pistons lost to Wizards 99-95.
The Rockets were stretched by the Cavs, who lost the game in overtime. LeBron James played a good game scoring 37 points but was a major source of embarrassment from the free-throw line, as he missed crucial points during the overtime as well.
"There is no excuse. I missed free throws," said James, as quoted by AP.
"I missed the two biggest ones of the game to put us up with seconds on the clock and I didn't come through. I failed my teammates."
Very few would have thought that the All Star would have such a bad night from the free-throw line.
Tristan Thompson who had a decent game against Rockets as he said, "We win as a team and lose as a team. The game wasn't determined on those two free throws, there were plenty of opportunities."
"I think each of us as individuals need to look back and see where we could have done better. It's part of the game, just have to move on to the next one."
With such a performance, the Cavaliers must be more than determined to showcase their skills on the court and the Celtics might be at the receiving end tonight.
The Celtics may not have been doing well, but they have players to make Cavaliers suffer their third straight defeat. Players such as Avery Bradley, Brandon Bass and Jared Sullinger need to be one top of their game to help their team win.
More importantly, Celtics would want their star player Isaiah Thomas, who has averaged 15.9 points per game to lead them from the front.
Things do not look very positive for Celtics, as they need to win a number of games in the remainder of the season to be a part of Playoffs this season.
Where to Watch Live
The game is scheduled to start at 7pm ET (5:30am IST and 12am GMT) with live TV coverage on SN 360 in the US.
Viewers in India can catch the game live on Sony SIX.