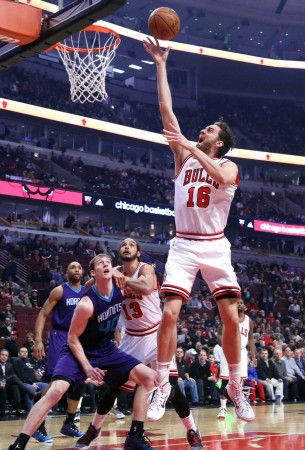 The Oklahoma City Thunder are placed in the eighth position of the Western Conference, but they need to improve upon their show for the remainder of the season, if they are to play in the prestigious Playoffs.
There are other teams in the league such as New Orleans and Phoenix Suns, who could grab Thunders Playoffs' spot.
The Thunder needs to show their intent as they play against one of the in-form teams of the league, Chicago Bulls, who are comfortably placed in the second position of the Eastern Conference.
The Bulls have had an impressive season so far with 38 wins and 23 losses and an even more impressive 7-3 win loss record in their last 10 games.
Both the teams are coming into this match with a victory under their belt, as the Bulls defeated the Washington Wizards 97 to 92, while the Thunder have won two straight matches and would be looking for a third win in a trot against the Bulls, which might not be an easy affair.
The Thunder defeated the 76ers in their last game, 108 to 101, which takes the Thunder to a good run of eight wins in their last 10 games.
Once again, it was their star performer, Russell Westbrook, who came up with career high 49 points and 16 rebounds to defeat the Philadelphia 76ers. But, Westbrook is not going to find it easy against the Bulls.
After his amazing display, even his opponent, Jason Richardson from 76ers said, ''It's amazing watching him play,'' as quoted by AP.
''You've got to take your hats off to this guy. He takes no plays off. He plays hard on both ends of the court. He rebounds. It's amazing to see a guy who has that much passion about winning.''
Westbrook has been amazing been this season, where he averages 27 points per season along with seven rebounds. But other players in the team such as Enes Kanter and Serge Ibaka have been impressive as well with 13.9 and 14 points per game this season.
For the Bulls, on the other hand, things have not been looking great as far as their injury worries are concerned. After Derrick Rose's surgery, which might see him miss the length of the season, the Bulls have been received another major blow with Jimmy Butler expected to miss the league for around three to six weeks.
Hence, the team would look up to Paul Gasol to help Bulls maintain their good run in the league. Gasol averages 18.2 points per game this season.
Where to Watch Live
The game is scheduled to start at 8pm ET (6:30am IST and 1am GMT) with live TV coverage on TNT in the US.
Viewers in India can watch it Live on Sony SIX.
Viewers around the world can stream it live on NBA.com.