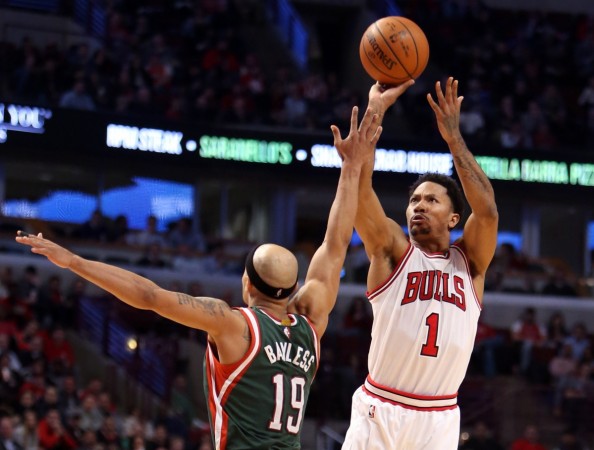 One of the most popular teams of the NBA, Miami Heat, and fans' favourite Dwyane Wade might not feature during the 2015 Playoffs, if they maintain their current position in the standings table.
Heats with 35 wins and 43 losses remain in the 10th position of the Eastern conference, which does not do justice for a team like Miami, who were one of the outstanding teams last season.
They were in a decent position some weeks back, but after losing four out of the last five games, their future looks insecure. Hence, when they take on Chicago Bulls on Thursday, they have no other option but to win the game and increase their Playoff chances.
After losing four games in succession, they might have been relieved after winning their last game against the Hornets with the score reading 100-105.
Bulls are not in the best of their form in the league, where they have lost their last two games. This dip in form might might be encouraging for the Heats.
Despite the defeat, they might be upbeat with the return of Derrick Rose from injury. The Bulls would need their star player to be in top form during the Playoffs. Rose's side currently lie on fourth position of the Eastern Conference.
"I felt all right," AP quoted Rose as saying. "I think it was about right. It'll get better the more I play, but I'm getting better every week. It'll take some time, but I'll get there."
Rose is one of the key players for the Bulls.
Rose averages 18.2 points per game this season and other players such as Jimmy Butler and Paul Gasol averages 20.1 and 18.5 points respectively.
If this trio of players play to their level, the Heats are in for long night. But, the Heats also have players in their ranks such as Wade, who averages 21.5 points.
"We know where we stand," AP quoted Dwyane Wade as saying.
"We've got some tough games (left) and we have an opportunity to give ourselves a great chance by the way we play - especially here at home."
If the Heats reach the Playoffs, they are going to be a huge threat in the competition.
Where to Watch Live
The game between the two starts at 8pm ET (5:30am IST and 12am GMT) with Live coverage on TNT in the US.
Viewers in India can watch it Live on Sony Six.
International viewers can stream it online on NBA.com.