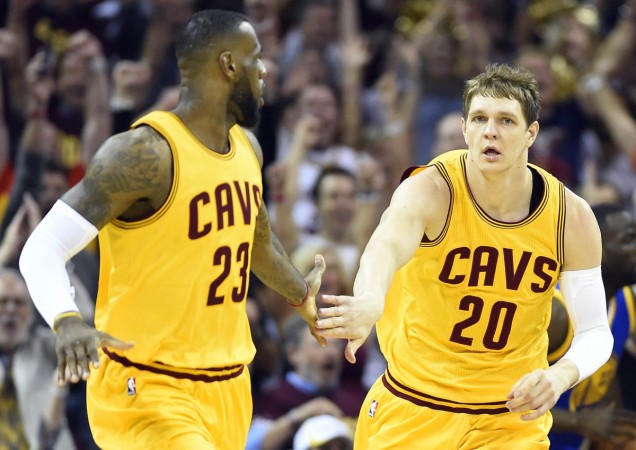 The Golden State Warriors and Cleveland Cavaliers have been amazing in the NBA finals as the best of seven series stands at 2-2. Warriors take on Cavaliers for the crucial fifth game on Sunday at Oracle Arena.
The contest between the two sides has been a see-saw ride with Cavaliers winning the second and the third games, while the Warriors emerged victorious in the first and the fourth games of the finals.
Though the first three matches of the NBA finals were really close, the fourth game was dominated by Warriors, who defeated the Cavaliers, 103-82.
Apart from the third quarter of the fourth game, the Warriors outplayed the Cavs. With Warriors trailing, they were required to win the game and draw the series level and how excellently did the team rise to the occasion!
It was an all-round effort by the Warriors, as four of their starters crossed double figures with Stephen Curry and Andre Iguodala finishing with 22 points each. Despite Klay Thompson being below par scoring only nine points, Warriors were terrific in their approach overall.
Cavs' LeBron James might not have been hugely successful in the fourth game, which might also have led to their downfall. In the absence of Kyrie Irving, James has stood tall and has come up with brilliant performance, but during the game 4, he could only manage to score 20 points.
Despite Timofey Mozgov's heroics with 28 points, the Cavs finished second best against the Warriors. James will be eager to witness a similar performance from Mozgov on the fifth game of the finals as well.
If the duo come up with a big game, the Warriors will have their task cut out at Orcale Arena. James has a good experience of playing in pressure situation, primarily with the Heats, where he helped the team come back from difficult situations in the Playoffs as well.
One will never forget the series against Boston in the conference finals, where they were trailing 3-2 and James came up with a big game.
So comparing that game with this one, he feels game 5 is not that big.
''That's probably the biggest challenge of my career,'' AP quoted James as saying. ''Game 5 at Golden State is not that big when it comes to going to Boston, you lose multiple times in that arena, and the franchise I was with at the time had never won a playoff game in Boston. Now that's pretty challenging, so I've been through a little bit in my pretty cool career.''
But, for the rest of the players, it is a humongous one, as not everyone has achieved the success what James has in his career so far, including NBA titles.
Where to Watch NBA Finals
Game 5: Cavaliers vs Warriors at Oracle Arena, 8pm ET (5:30am IST, 1 am BST)
TV – ABC (US) and Sony Six (India)
Online – NBA.com