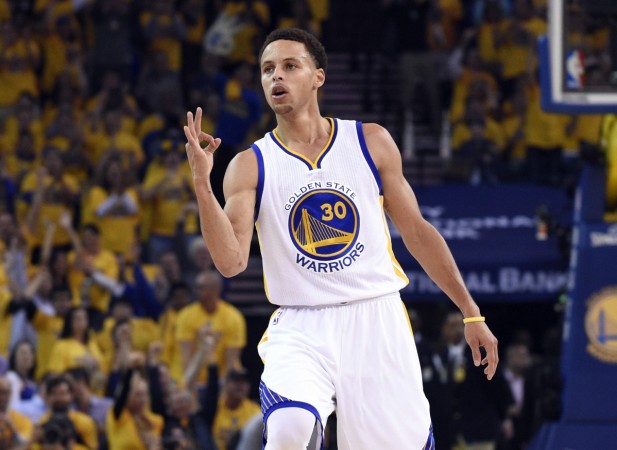 In the absence of Kyrie Irving, the Cavaliers were expected to hand over the NBA title to Golden State Warriors.
But in LeBron James, they have one of the best all-round basketball player the league has ever seen. He has taken the responsibility of leading the team from the front after some consistent showing in the second and third game of the NBA finals, which helped his team turn triumphant as well.
So, when Cavaliers take Warriors for the fourth game of the NBA finals at Quicken Loans Arena on Thursday, James, who has scored 123 points in the first three games of the finals, is once again expected to shoulder the responsibility.
The team is not only missing Irving, but also Kevin Love, who had been impressive in the regular season.
Despite being 2-1 up, James believes that they are fighting for their lives. "I know we're up 2-1. I know our team is fighting for our lives. We're undermanned. We're under-matched and we're fighting," AP quoted James as saying. "That's all I know."
But, on the contrary, NBA MVP Stephen Curry from Warriors has not been able to impress in the last two games. One of the main reasons for such a performance has been Matthew Dellavedova, who has been keeping a very tight defence on Curry.
But, Curry is still confident that they can turn around. It is important that the Warriors defeat Cavs in game 4 so as to level series. They need to make some adjustments in the game to defeat Cavaliers.
"We'll figure out our game and the adjustments we need to make as we watch film later today, and we'll be ready tomorrow to give our best effort," Curry said. "I feel like we're pretty confident we can turn this around."
This is not for the first time that the Warriors are trailing in the Playoffs this year as the Grizzlies also had taken a 2-1 lead in the semifinals, but the Warriors rallied to win the series then.
Curry said that their main objective lies in winning game 4.
"We're down 2-1 on the road. Same sequence of games, win-loss-loss, so very similar situations," Curry said. "Obviously a different team, so you've got to adjust accordingly. But the mission is we've got to win Game 4. Go home with an even series and take it from there."
Where to Watch Live
Game 4: Cavaliers vs Warriors at Quicken Loans Arena at 9pm ET (6:30amIST, 2am BST)
TV – ABC (US) and Sony Six (India)
Online –NBA.com