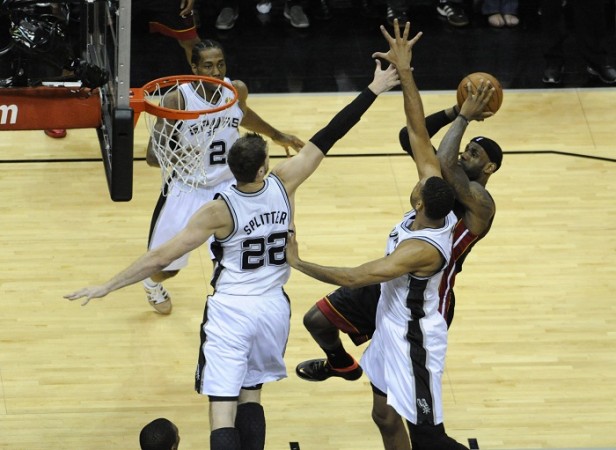 After tying the best-of-seven series at one game apiece, the Miami Heat are all set to face the San Antonio Spurs in the third encounter of the NBA Finals at the American Airlines Arena on Tuesday night.
Miami star LeBron James bounced back with a superb performance in the last game after recovering from cramp problems that made him leave the first game. James played a crucial role in bringing Miami back into the contest as he racked up 35 points and also provided 10 assists.
The four-time MVP, who also sets up his teammates to score in the crucial moments, said that the players trust him and believe in his abilities.
"I'm going to make the right play," James said. "To have that trust from my teammates, they know when I've got the ball I'm going to make the right play. Doesn't mean it's going to go in. Doesn't mean it's going to result in a win, but they believe in my ability."
Miami was trailing by one point in the closing stages but managed to clinch the lead and won the game by just two points to tie the series. The Heat's Dwyane Wade insists they are not affected by the loss and is confident they can deal with the pressure of the Finals.
"You never put them away," Wade said. "I think they always believe and it's the same with us. You can't, you won't, put us away because we're always going to believe. That's why this is a perfect, different animal, kind of series."
"They're the other team like us. They don't lose much and when they do they come back and be better in the next game. So we've got to come out and do the same thing."
San Antonio's Tony Parker said that Miami played well in the last game and snatched the home-court advantage from them but now his team needs to regroup and take the lead in the upcoming encounter.
"They came out great. They played a great game," Parker said. "Now it's our turn to go over there and get one. We played pretty well all season long on the road and so we're going to have two great opportunities to try to come up with a win."
Beating Miami at home is not going to be easy for the Spurs as they have won 11 straight games at home in the postseason. San Antonio's Manu Ginobili said it will be a challenge to snatch a win against the Heat but they do not want to leave Miami 3-1 down in the series.
"We are in a tough situation because we've got to go to Miami and we've got to get one," Ginobili said. "We don't want to come back here 3-1 down. It's very hard to overcome that. Definitely going to be a great challenge for the team to play in an arena like that and having to win."
Where to Watch Live
The game is scheduled for a 9:00 pm ET (6:30 am IST, 1:00 am GMT) start with live coverage on ABC in the US and Sony Six and Sony Six HD in India. The game can be watched via live streaming option in the US HERE or HERE. The game can be live streamed by international viewers, including India HERE.