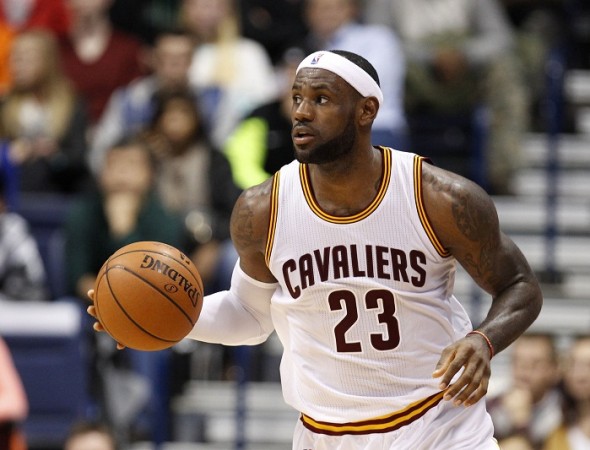 The Golden State Warriors lead the best of seven NBA finals against Cleveland Cavaliers 1-0 after defeating the Cavs during overtime in the first game. Both teams looked sharp, but Cavs' below par performance during OT cost them the game, as they only managed to score two points.
The Cavaliers are required to forget their OT performance and look ahead for their second game on Sunday at Orcale Arena. It was LeBron James who put up an emphatic performance in the last game scoring 44 points, which was still not enough for them to turn victorious.
The Cavs will once again look forward to the individual brilliance of James, who needs to carry the team on his shoulders as their all-star player Kyrie Irving will not be available after he underwent surgery to repair his fractured left kneecap.
Such kind of things can bring the entire team down as well, especially in such a huge contest. But, James is ready to motivate his team mates.
With Warriors having a fully fit team and Stephen Curry and Klay Thompson in great shooting form, the home team might be deemed favourites, but with James on the other floor, consider Cavs as a weaker side at your own peril.
James understands that they are the underdog now with Irving being out.
''(I) understand that we were the underdog coming into the series and with Kyrie being out people are writing us off,'' AP quoted James as saying. ''So, I mean, that's fine. That's fine. I'm motivated to get our guys ready to go tomorrow and we will be ready.''
The Cavs have played without Irving in the regular season and have turned out successful as well, but this is the NBA finals and there is so much of pressure and pride at stake as well. James considers his absence as a huge blow.
''Obviously, we've been in this situation, but we always knew at some point he'll come back,'' James said.
''Knowing that he's out for the rest of the finals and out for a period of a long time, first of all, it sucks for him personally. It's a huge blow for our team, especially at this stage.''
The Warriors have become more favourite after Irving missing out in the NBA finals, hence people are already talking about Warriors being 2015 NBA champions. But Warriors' Curry is not listening to such things and just wants to improve upon their game 1 performance.
'There is no pressure or added pressure, I don't think, because our goal stays the same,'' Curry said.
''We're not really listening to any outside noise or predictions, or who is favoured to do what, because we control what we control. When we go out there and play, we've got to play better than we did in Game 1, and that is really our only focus.''
Where to Watch Live
Game 2: Cavaliers vs Warriors at Oracle Arena, 8pm ET (5:30amIST, 1am BST)
TV – ABC (US) and Sony Six (India)
Online – NBA.com