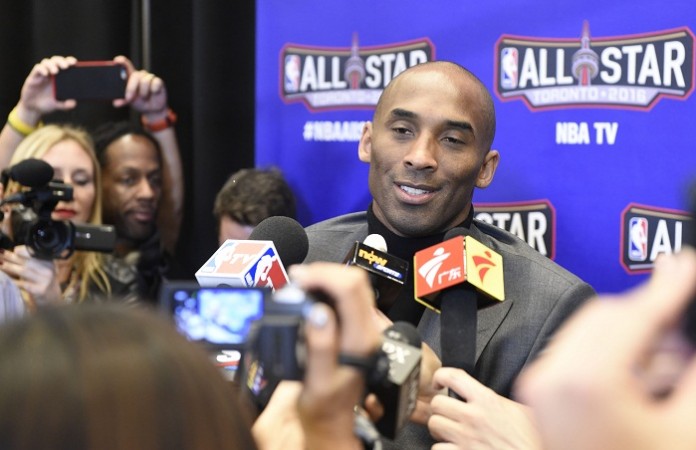 The NBA-All Star game between the Eastern and Western conference on Sunday at the Air Canada Centre in Toronto will be a special one in NBA history. Kobe Bryant will feature in his last All-Star game as the two strong-looking East and West teams are set to go head-to-head in what is expected to be a thrilling contest.
Though the focus will be on Kobe to a certain extent, one cannot turn a blind eye on other stars, who are set to participate in the mega game of the year. Big names from world basketball such as LeBron James, Carmelo Anthony, Dwayne Wade, Stephen Curry and Kevin Durant are set to dazzle the fans with their high-flying moves in the All-Star game.
There is nothing much to choose between the two teams that are set for All-Star contest. If the East are going to be represented by James, Paul George, Anthony, Wade and Kyle Lowry and others, the West also possess incredible stars such as Curry, Kobe, Durant, Russell Westbroook and Kawhi Leonard.
With such stars in action there is great anticipation ahead of the All-Star game. The golden question remains, who will win the most prestigious MVP award in Toronto? There is a fair share of contenders like James, Curry, Anthony, but Kobe is said to have already ruled himself out of it as he may not play for a long duration in the game as he has been hampered by injuries this season.
However, the Lakers' man is just pleased to be participating in such a mega event in his last year of the league. This is the 18th time he will be participating in the All-Star game.
"This is pretty cool. I'm looking around the room and seeing guys that I'm playing with that are tearing the league up that were like four during my first All-Star Game. It's true. I mean, how many players can say they've played 20 years and actually have seen the game go through three, four generations. You know what I mean? It's not sad at all. I mean, I'm really happy and honored to be here and see this," Kobe was quoted as saying in ESPN.
Though Kobe might not have his eyes on the MVP, Curry and James, who has had an incredible season with Golden State Warriors and Cleveland Cavaliers respectively, will be the top contenders among others. Wade and Anthony could pose a serious challenge for the title.
The All-Star game has always witnessed players come up with some fancy moves – no-look pass, creative dunks -- during the game, which makes it fun to watch and that is what these fans want as well. However, as the game goes onto the third and fourth quarter, it is usual business as players put their feet on the pedal to try and help their team emerge triumphant.
One cannot wait for the game to begin and witness Kobe play his last All-Star game. Can his West teammates make it extra special by winning the game on Sunday?
Where to watch live
East v West All-Star Game 2016 is scheduled for 8:30 p.m. ET (7am IST, 1:30 a.m. GMT) start with live TV coverage in India on Sony Six and live streaming on Sonyliv..
Viewers in the US can watch the East vs West All-Star Game 2016 live on TNT, with the live stream option on TNT Overtime.
Viewers in the UK can watch East vs West All-Star Game 2016 on BT Sport 1 and Watch BT Sport.