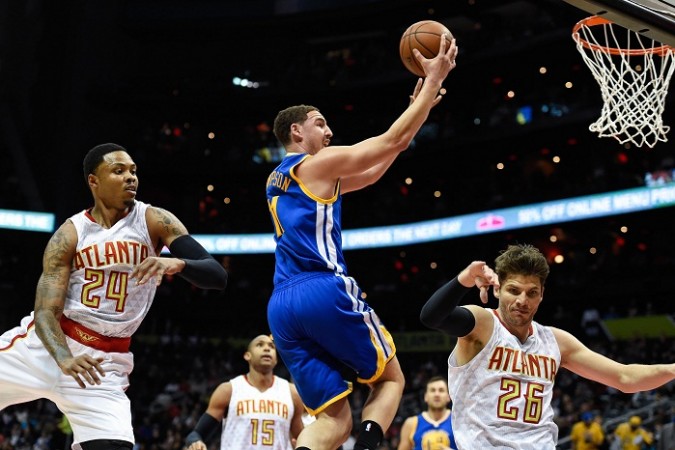 The Golden State Warriors-New York Knicks' NBA fixture at Oracle Arena in Oakland Wednesday is a big mismatch. The Warriors are the best team in the Western Conference, while the Knicks are one of the weakest teams in the Eastern Conference.
The Warriors have been on an amazing run at home as they have not tasted a defeat against any team in the season. There is something about the Warriors' team when they play in front of their home fans, who support them to the hilt, and the players respond with some brilliant performances. Even if their opponents are playing well, the Warriors' players somehow take their game to another level, and emerge victorious.
Throughout the season, Stephen Curry and Klay Thompson have looked in majestic form, scoring some important points and coming up with big baskets when it matters most. Curry averages 30.4 ppg while Thompson is 22 ppg. If the duo once again shines in front of their home fans, the Knicks can forget about defeating the Warriors.
The Warriors have won their last five matches on a trot and emerged victorious in nine out of their last ten games, which is brilliant. Their performance has been consistent throughout, as they have already won 60 games this season and their record at home is even more amazing (31-0). Coach Steve Kerr is pleased to be a part of such an incredible team.
"It's so rare in the NBA, in your first coaching job, to inherit a great team. They had already won 50-plus before I even got here,I'm pretty lucky to coach these guys," Kerr was quoted as saying by AP.
Only positive things can be said about Warriors, but things are in contrast for the New York Knicks, who are struggling in their conference, with 28 wins and 40 losses. They lie 13th in the conference table as well.
However, the Knicks can take inspiration from their last three games, where they have won twice. Carmelo Anthony is their biggest star and Kicks number 7 has been performing well, but he cannot do it all alone, needs support from rest of the players as well. Players like Arron Afflao and Robin Lopez needs to help Anthony and Knicks shine.
It is time for Anthony, who has not been impressive against the Warriors, to show what he is capable of, offensively.
Where to watch live
Golden State Warriors vs New York Knicks live NBA game is scheduled for 9:30 p.m. ET (8 a.m. IST) start with live TV coverage in India on Sony Six/HD while the live streaming is available on Sonyliv.
There is no National TV live coverage in the US.
Viewers around the world can watch all the NBA live action by live streaming on NBA Online.