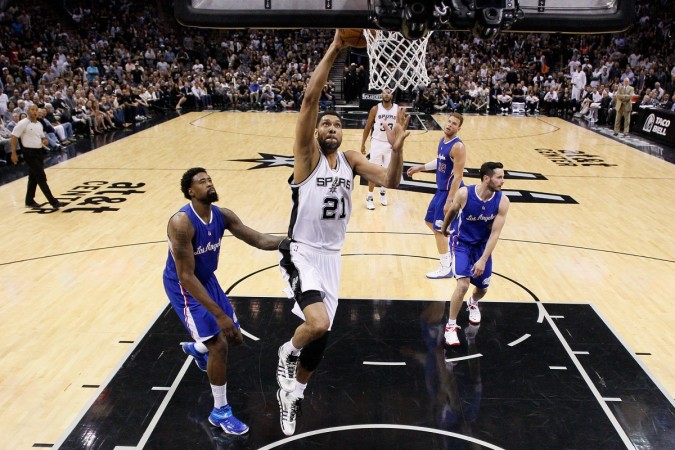 The San Antonio Spurs-Los Angeles Clippers first round Playoffs clash has lived up to expectations, as it has been stretched to the last game of the series at Staples Center, Los Angeles, for game 7.
The series was has been brought to the decider, with Clippers defeating Spurs on game 6, with the score reading 102-96.
Clippers would be really unfortunate if they fail to progress to the conference semi-finals, as they finished third in the western conference after the regular season came to an end, while Spurs with a late surge finished sixth.
There was a time when Spurs' chances of making it to the Playoffs looked uncertain, but in the latter stages of the regular season, they really proved their class and have been doing so in the Playoffs against the Clippers.
With experienced players in their line up, they know what it takes to win crucial matches. Tim Duncan is one such experienced player, who understands the magnitude of such must-win games.
''We understand the pressure that's there and we understand the magnitude of the game,'' AP quoted Duncan as saying.
''We understand that we can play better than we did (in Game 6). Hopefully we will clean a whole lot of that up and play a much better game in this short turnaround. I know we are capable of it. We will be ready for it.''
Tim Duncan has been one of their best player in the first round, as he has an average of 16.3 points per game (ppg). Kawhi Leonard has been even better, with 21.5 ppg. So, if these two players get their act together for one last time at Staples Center, Clippers would be out of the Playoffs.
Talking of Spurs and Duncan, Blake Griffin only had good words to say about the defending champions.
''They are a great team, in every sense of the word,'' Griffin said.
''I don't think you can look at a team over the past 20 years or so that has been better. Duncan is a great player and one of the best players of all-time. They have been in this situation. They went into a Game 7 with Dallas last year in the first round and they ended up winning the whole thing. They have been in this situation and they know not to panic.''
If Spurs are looking up to Duncan to help them win the series, Clippers might require Griffin to fire on all cylinders to progress further in the competition.
Where to Watch Live
The NBA Playoffs Round 1 game 7 between San Antonio Spurs and Los Angeles Clippers is scheduled for 8pm ET (5:30am IST, 1am BST) start.
Viewers in the US can watch the game live on TNT.
Indian viewers can watch it live on Sony Pix.
NBA fans can also watch the Playoffs live on NBA.com