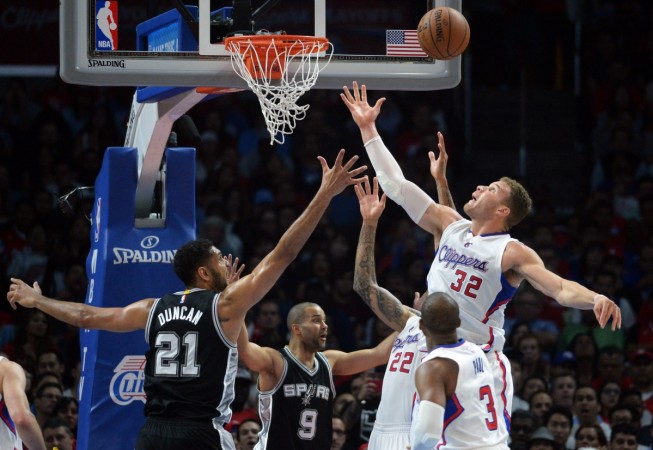 The mouth-watering first round Playoff series between San Antonio Spurs and LA Clippers has lived up to the expectation with the series being very tight, as Spurs lead 3-2 in the best of seven series.
So when Spurs take on the Clippers at their home turf in AT&T Center, they will be eager to knock them out of the competition. The Clippers, who were amazing in the NBA regular season, might be disappointed if they fail to progress further in the Playoffs.
Hence, they will give it their all to come up with a winning performance and stretch the game to the decider.
The fifth game between the two was also very close as Clippers lost the game by just four points with the score reading 111-107.
The experience of Tim Duncan and his winning attitude has rubbed off on his team mates as well. Duncan has been putting up some good scores for the Spurs in the series, as he is the second highest scorers in the series for Spurs with an average of 17.2 ppg.
But, Duncan is aware of the threat Clippers brings to the table. They are a team, who finished the regular season with 56 wins. They know what it takes to win on the road as well and they had a 26-15 win-loss record . Hence, winning on the road should not be a major problem for the Clippers.
"They know they can win on the road," AP quoted Duncan as saying. "They're going to try to knock us on our heels and attack. We know the aggression they're going to come with."
But, one can expect a high intensity game between the two sides, who have an inspiration to not only progress in the next round, but also go all the way and lift the NBA title. Spurs are the defending champion, who thrashed Miami Heat in last year's final, 4-1.
The Spurs have met a huge team so early in the competition and if they clear this stage, their confidence will only increase in the competition and pose a serious challenge.
Clippers are not going to let go off the series very easily. "It's tough, but the series isn't over, and we can't think like that," said Blake Griffin, Clippers player.
"It's going to be a hostile environment in San Antonio."
Where to Watch Live
The NBA Playoffs Round 1 game 6 between San Antonio Spurs and Los Angeles Clippers is scheduled for 9:30pm ET (7am IST, 2:30am BST) start.
Viewers in the US can watch the game live on TNT.
Indian viewers can watch it live on Sony Six.
NBA fans can also watch the Playoffs live on NBA.com