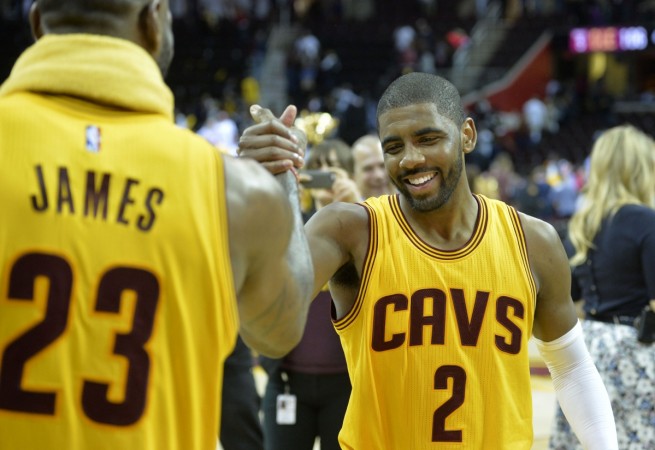 The Cleveland Cavaliers are upbeat after an impressive performance against the Chicago Bulls in the Eastern Conference semi-finals, where the Cavs defeated the Bulls, 4-2 in the best of seven series. They had defeated Boston Celtics in the first round of the competition as well.
But Cavaliers will not find it easy against Atlanta Hawks when they clash during the Eastern Conference finals. The Hawks have stood tall in the 2015 NBA Playoffs, defeating teams such as Brooklyn Nets and Washington Wizards, but they did not enjoy a cakewalk route to the final.
With game 1 set to be played between Cavaliers and Hawks at Philips Arena, both teams will be eager to start the series on a right note.
The Cavaliers will be depending on their star player Lebron James and Kyrie Irving, while the Hawks might be looking for a A-star performance from Paul Millsap and Al Horford. The Hawks have four All-Stars in their team, which makes them a formidable unit.
Though the Cavaliers might be favourite in the best of seven series, one cannot overlook Hawks form during the regular season, where they finished atop of the Eastern Conference standings table with 60 wins and 22 games. They also created a record with 19 wins on a trot.
The Cavaliers finished second with 53 wins and 29 losses and James must be given credit for such a season.
There is huge hope from James during the series against Hawks, as the player has already won the elusive NBA title twice and he will be eager to repeat that feat with Cavaliers as well, for which they need to edge past their opponents.
"He has been a great leader for us," AP quoted Cleveland star Kyrie Irving. "In terms of learning the nuances of the game and also how to win on the court and also how to carry ourselves off the court, I feel like he's been a great influence in that role."
Irving played the last few games with tendinitis in his left knee, but the player is expected to be back to full fitness in Wednesday's action.
Hawks coach Mike Budenholzer deserves a special mention for the way his team has destroyed opponents. The coach talked about the need of being confident.
''It's going to come down to the last couple of minutes. It's going to come down to the last couple of possessions,'' Budenholzer said.
''You need to have confidence that you can get stops. You need to have confidence that you can execute and score. Whichever team is able to do that has the best chance.''
Where to Watch Live
The NBA Playoffs Western Conference finals game 1 between Atlanta Hawks and Cleveland Cavaliers is scheduled for 8:30pm ET (6am IST, 1:30am BST) start.
Viewers in the US can watch the game live on TNT while Indian audience can watch it on Sony Six.
NBA fans can also watch the Playoffs live on NBA.com