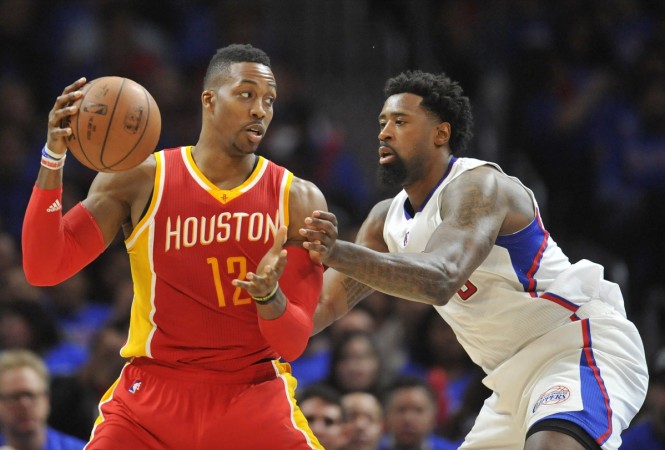 After defeating Houston Rockets in the first game of the Western Conference playoffs final, Golden State Warriors will be eager to win their second game and take a 2-0 lead.
But, the Rockets are aware of the importance of the second game in the best of seven series, as another loss could make their way back to the series against the Warriors a tough ask. It is at this juncture where Rockets' star players need to rise to the occasion.
The Rockets have been dealt with a severe blow with star player Dwight Howard's presence in the second game at Orcale Arena still questionable with a sprained left knee. If the player fails to make it to the team, the Rockets might have to turn to the services of their rookie, Clint Capela, who played 13 minutes in the first game, scoring nine points.
Hence, the onus might well fall on James Harden, who has been amazing this season not only in the playoffs, but also the regular season. But the Rockets turned up even when Howard missed a number of games for the Rockets during the regular season.
They might have been used to it, but this is the playoffs and without a shadow of doubt, Rockets are going to miss their big man. Averaging 16.4 in the playoffs, the centre has been a main factor in Rockets positive playoff performance.
''We've been through it this year,'' AP quoted James Harden as saying. ''Those guys are ready to come in and contribute. Hopefully, big fella can get his body healthy and can go out there and help us.''
Though, the Rockets might have lost their first game, they are not going to give up that easily. They have been a team, which believes in not giving up, as was shown in their series against the Los Angeles Clippers.
The Rockets came down from 3-1 down to clinch Conference finals berth and set up a date with Warriors.
However, Rockets needs to find a way to stop Stephen Curry from scoring as the player has continued his regular season form to the playoffs. The MVP averages 28.7 points per game in the playoffs.
Klay Thompson has also been decent with an average of 20.2 points per game during 2015 playoffs. Curry looks for Thompson's brilliance when he fails to produce a big night. Either of the players have always rose to the occasion whenever required.
Where to Watch Live
The NBA Playoffs Western Conference finals game 2 between Golden State Warriors and Houston Rockets is scheduled for 9pm ET (6:30am IST, 2am BST) start.
Viewers in the US can watch the game live on ESPN, while the Indian audience can watch it on Sony Six.
NBA fans can also watch the playoffs live on NBA.com