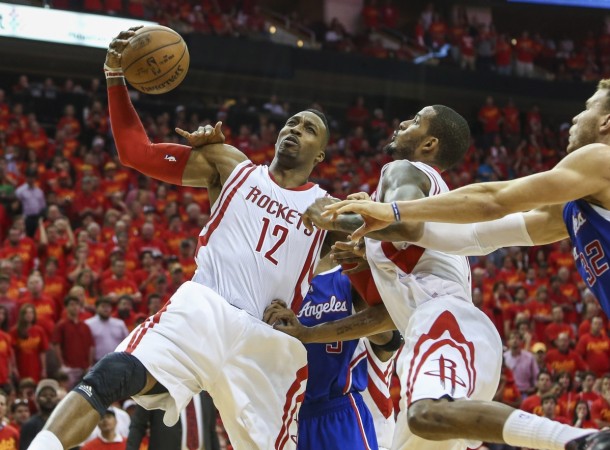 Both Houston Rockets and Golden State Warriors have deservedly sealed their berth in the finals of the Western Conference.
The Rockets defeated some of the best teams, Los Angeles Clippers and Dallas Mavericks, en route to the finals and Warriors have also been equally impressive against the likes of Memphis Grizzlies and New Orleans Pelicans.
But such winning performances are a thing of the past as both the teams have to concentrate on game one of the conference finals at Oracle Arena. The team, which starts on a winning note will have a healthy advantage in the best of seven series.
Check out the Complete NBA Playoffs Conference Finals Schedule
Though the focus will initially be on two key players, James Harden (Rockets) and Stephen Curry (Warriors), there are a number of stars in both the teams to take the series by storm. Warriors' Klay Thompson and Rockets' Dwight Howard will be the other players to watch out for during the series.
Curry and Thompson has been a huge factor in the Playoffs with an average of 28.2 and 20.7 points per game respectively. These players, who are great shooters from the three point range needs to be tightly guarded, for they can demolish teams in a single quarter.
Curry already has his eye in the prestigious NBA finals, as he feels they are just four wins away.
''We're four wins away from getting to the Finals and one step closer to our dream,'' AP quoted Curry as saying. ''There's one team in our way to get there. That's it.''
But, it is not going to be easy against the Rockets, who came down from 3-1 down against the Clippers in their semi-finals clash to win the series, 3-4. Hence, they will not be short of confidence when they travel on the road for the huge encounter.
The Rockets have their big guns firing as well, especially James Harden, who averages 26.7 during the 2015 NBA Playoffs. When on song, the Rockets star can win games single-handedly and Warriors need to keep a tight guard over Harden.
Harden wants his team to put pressure on the Warriors. ''We're going to put the pressure on them,'' Harden said. ''It's the playoffs, anything can happen.''
Where to Watch Live
The NBA Playoffs Western Conference finals game 1 between Golden State Warriors and Houston Rockets is scheduled for 9pm ET (6:30am IST, 2am BST) start.
Viewers in the US can watch the game live on ESPN while Indian audience can watch it on Sony Six.
NBA fans can also watch the Playoffs live on NBA.com