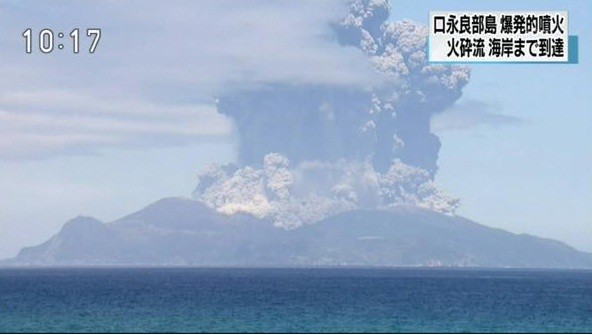 The Mt Shindake volcano erupted without warning on Kuchinoerabu Island in Japan's Kagoshima Prefecture on Friday, forcing the urgent evacuation of residents after a plume of smoke and ash reached up to 9 km high.
Japan's meteorological agency raised the alert level to the highest and ordered the evacuation of the 140 odd residents on the island after the "explosive" eruption at 9.59 am local time.
No deaths or injuries were reported after the sudden volcanic eruption, though reports suggested that some people have not yet been accounted for.
The pyroclastic flow of gas and rock reached the ocean after flowing down the peak, local media reported.
Prime Minister Shinzo Abe set in place a response team, while a patrol ship has been sent to the area by the Japan Coast Guard.
The 650-meter-tall Mount Shindake had last erupted last year, following unusual volcanic activity for about a decade, The Japan Times reported.
TV footages showed the moment when Mt Shindake erupted on Friday morning.
The volcanic eruption comes months after the deadly eruption of Mt Ontake last September, which killed more than 60 people.
Photo of Friday's volcanic eruption were shared on social media, showing dark clouds of smoke enveloping the region.
目の前の屋久島で口永良部島噴火した。噴火警戒レベル5。ドーンって地鳴りがすごかった pic.twitter.com/nhzESpWJJE

— Oh!kawa@カムバックパラダイス (@TAKUYAbluewhale) May 29, 2015