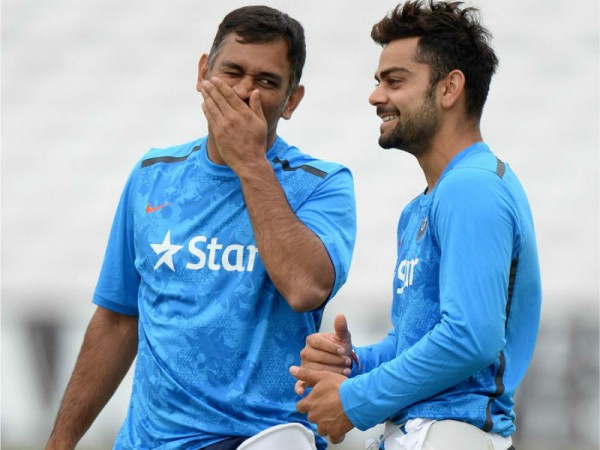 Indian cricket team captain Mahendra Singh Dhoni, vice-captain Virat Kohli and bowler Ravichandran Ashwin have teamed up, and this time for an advertisement. Although the ad is yet to be released, a couple of behind-the-scenes videos have come up on YouTube that are sure to raise the curiosity quotient of fans.
In the first video, Dhoni and Virat are seen trolling Ashwin for his Hindi pronunciation. The right-arm spinner again gets trolled in the second video for missing out on some dialogues. The trio shares a good rapport on the field and their onscreen chemistry looks wonderful as well. The three, who are among the best players in the Indian team currently, seem to have had a great time shooting for the video.
According to earlier reports, actress Kangana Ranaut was also expected to be seen along with Dhoni and Virat in a TV advertisement to be directed by film-maker Rajkumar Hirani. It is not confirmed if the ad featuring Dhoni, Virat and Ashwin, is the one that was supposed to star Kangana as well.
The commercial featuring Kangana was reported to get aired during the ongoing Indian Premier League T20, but hasn't been seen on TV yet. "Things are being kept under wraps as of now. But we know that the ad film will start airing during an upcoming T20 cricket series. It will be a one-day shoot that will take place in Mumbai on April 7," the Hindustan Times had quoted a source as saying.
In the ongoing IPL 2016, Virat is the captain of the "Bangalore Royal Challengers" team while Dhoni is the skipper of "Rising Pune Supergiants," which also includes Ashwin as one of the players. Check the behind-the-scene videos of the ad below: