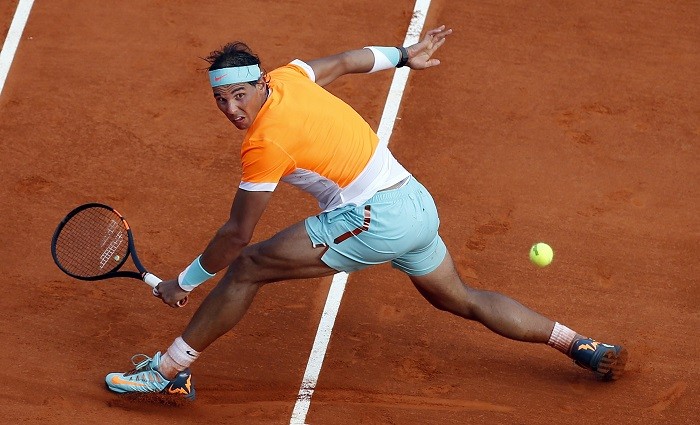 Rafael Nadal is back playing on his favourite surface, looking more like the Nadal we have all come to know and love. Novak Djokovic is in his usual form, making opponents look like amateurs – the mauling of Marin Cilic in the quarterfinals being a case in point. So, when these two giants of tennis meet on the red clay of Monte Carlo, something has to give and it remains to be seen if it will be the immovable object or the unstoppable force that comes out on top come Saturday semifinal day.
Nadal was made to sweat for his win over fellow Spaniard David Ferrer in the quarters, with the left-hander throwing away a break in the second set, before eventually prevailing in three 6-4, 5-7, 6-2.
"I think I played at the highest level [in a] long time, for a long time, three hours almost," said Nadal after his win over Ferrer. "The way I played the third after losing [a] disappointing second, it was a great third set in terms of tennis, in terms of physical performance, in terms of mentality."
That mentality and physical prowess has not quite been the same for Nadal since his return from a long-term injury, but if he is ever going to feel back in his groove it was always going to be on his favourite surface, where he is the unrivalled greatest player of all time.
Having said that, however, Nadal considers himself second favourite to Djokovic for this match, understandable considering the year the Serb is having.
"Tomorrow I am not the favourite, that is obvious," added Nadal to the tournament's official website. "When you play a player that is winning everything like he is doing, it is always going to be a very tough match to win. He's playing almost perfect. He's doing everything well, winning all the matches with not many problems. So when the things go that well, it's difficult to stop a player like Novak.
"I love this court. I love the tournament. I am in the semifinals again. That's a very, very, very positive result for me, especially the way that I get to the semifinals. Let's play the match, try my best, fighting for every ball. I am ready, I am going to do my best as I do all the time. I know it is a big, big challenge, but I don't have nothing to lose."
Djokovic is more than capable of topping Nadal on clay as well, like he has done enough times in the past; just not, as the Serbian himself would admit, at the French Open.
A win over Nadal in the semifinal in Monte Carlo could act as a morale-booster for Djokovic's hunt for that elusive French Open title next month, while also maybe denting Nadal's confidence a bit; or at least that is what the world number one will be hoping.
"It's probably the biggest clay court challenge you can have, playing against Nadal," said Djokovic after his 6-0, 6-3 thumping of US Open champion Cilic. "[He has] had so much success on this surface, this tournament in particular.
"I [have] got to prepare myself mentally for that. Other than the mental part, I think physically I'm ready. I'm not exhausted. I haven't spent too much time on the court.
"Also, I'm feeling the ball really well. Hopefully, I can perform well. I know that I'm going to need to keep the high level of performance throughout the entire match."
The other semifinal is between Gael Monfils and Tomas Berdych, but that will seem like a mere sideshow, even with the always-entertaining Frenchman in the mix, to the Nadal vs Djokovic semi.
Where to Watch Live
Novak Djokovic vs Rafael Nadal is scheduled for a not before 3.30 pm local time (7 pm IST, 2.30 pm BST, 9.30 am ET) start. Live coverage in India will be on Star Sports and Ten Sports. Audience in the US can catch Rafa Nadal vs Novak Djokovic live on ESPN 3 or Watch ESPN.
Viewers around the world, including India, can catch the Monte Carlo Masters semifinal via live streaming online on Tennis TV.