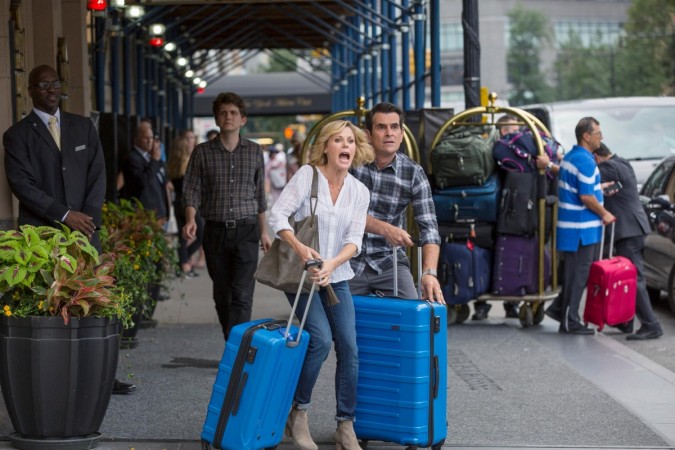 The much-awaited Season 8 premiere of Modern Family is finally happening, and the Dunphys and Pritchetts are bringing fans A Tale of Three Cities.
Everyone's favourite TV family is getting split up for Season 8 episode 1 as each mini family is going on their own separate vacations. While the Dunphys explore New York, the Pritchetts are in Mexico and the Pricthett-Tuckers visiting the Midwest. Fans will hopefully get to meet the members from the other sides of the extended family in the episode.
However, amid all this the first question in the minds of most fans of Modern Family is what is the fate of Andy and Haley's relationship? In Season 7 finale, fans saw Andy and Haley deciding to go their separate ways, hoping that life would bring them bring them back to each other.
Andy had received a great job offer and for him to let go of that for the sake of their relationship would have bred resentment. Haley overheard Phil's response to Andy's job offer: "If you're not taking that job in Utah because of me, you're making a mistake. I love you and me together but it would break my heart if I was the reason you gave up this dream career opportunity. Because, honestly, I don't know how much of a future there is, here, but if our bond is as strong as we think it is, we'll work out way back to each other"
On realising that it is exactly how she feels about the situation, she asks Andy to chase his dreams. As heartbreaking as it was to see their break-up, it was also beautiful to see Haley grow as a person. We are still rooting for these two to get back together in Season 8.
The official synopsis for the upcoming episode titled A Tale of Two Cities reads:
The Dunphys travel to New York, while Mitch, Cam and Lily visit the Midwest, and Jay, Gloria, Manny and Joe go to Mexico; the family gets together for Father's Day.
Watch Season 8 episode 1 of Modern Family at 9 pm (EST) Wednesday, September 21. You can also live-stream "Man Shouldn't Lie" via ABC Go!