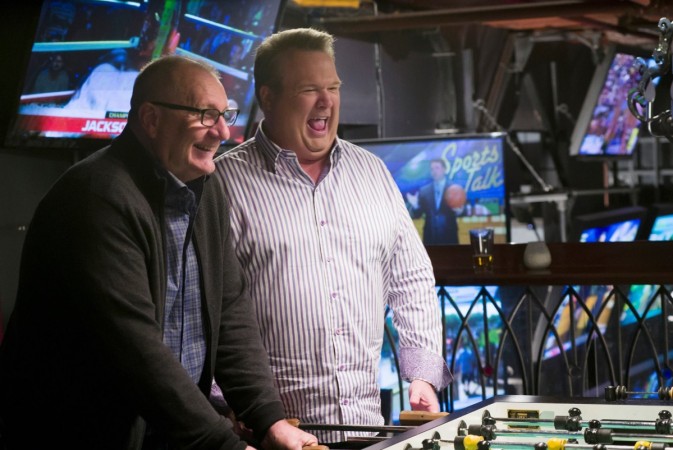 Season 7 of "Modern Family" returns with episode 18 "The Party," and it will see the adults taking a day off to pamper themselves. Meanwhile, the children will have fun on their own, much to the chagrin of Claire (Julie Bowen).
When the various members of "Modern Family" are matched up with other members of the family it generally results in hilarity, and that is what fans can expect from the upcoming Season 7 episode 18.
Jay (Ed O'Neil) and his son-in-law Cam (Eric Stonestreet) have quite a few things in common, including their love for football. However, when left alone, the duo gets awkward and results in Cam saying something highly inappropriate, like: "Today is Hitler's birthday."
In "The Party," viewers can expect to see more of these "fun facts" of Cam when the duo decides to go to the big game together. In true "Modern Family" fashion, this hanging-out will probably be the one thing that brings the two men closer.
Also Read: Find out why 'The Fosters' Season 4 is going to be the best one yet
Meanwhile, Mitch (Jesse Tyler Ferguson) and brother-in-law Phil (Ty Burrell) will geek out at the movies. As fans know, the two are into sci-fi, Phil more than Mitch, but this may finally give Mitch the push to embrace his inner nerd.
Gloria (Sofia Vergara) and Claire will try to enjoy their spa date, taking a well-deserved break from work and children. However, their relaxation time will be rudely interrupted when the fire alarm in the Dunphy home will go off.
Luke (Nolan Gould) and Manny (Rico Rodriguez) were supposed to be babysitting Lily (Aubrey Anderson-Emmons) at home, and the fire alarm will convince Claire the boys are throwing a party. And clearly they are, but will the boys be able to get away with it, thanks to help from Lily, or will Claire catch them red-handed?
Find out when Season 7 episode 18 of "Modern Family" airs at 9 p.m. (EST) Wednesday, April 6, 2016. You can also live-stream "The Party" via ABC Go!