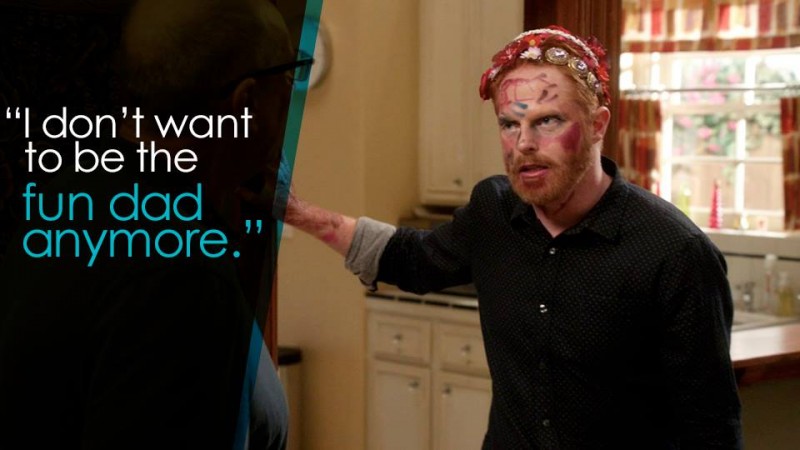 ABC's "Modern Family" is one of the most hilarious shows currently on TV, and while every character is funny on their own, it is the episodes where the entire family is seen together that stand out as more popular. Season 7 Episode 14 "The Storm" is going to be one of them, thanks to a huge thunderstorm.
Every family member is huddled in Jay (Ed E'Neil) and Gloria's (Sofia Vergara) home to use their generator. However, the patriarch is desperately trying to leave, so he can attend a reunion of his old Navy buddies.
Cam (Eric Stonestreet) and Mitch (Jesse Tyler Ferguson), too, have other more important things planned; namely, their daughter Lily's (Aubrey Anderson-Emmons) birthday party. Although they had just thrown a casual get-together in the beginning, they go overboard and even hire a party bus after Ashley W, the most popular girl in Lily's class, agrees to attend.
Their plans get destroyed by the storm, but the loving fathers do not give up. They will be seen trying to salvage the party even as everyone else gives up.
Also Read: Everything else you need to know about "Fuller House" ahead of premiere
Meanwhile, Phil (Ty Burrell), who made a fool of himself after a public panic attack, will be seen trying to redeem himself by trying to be a hero. However, his attempt just makes the rest of his family even more agitated. His daughter Haley (Sarah Hyland) is also seen making seemingly futile attempts at proving a point. Hers, however, is to seduce Andy (Adam Devine).
Fans of the show are obsessed with Andy and Haley, and have been demanding new scenes of the young lovers, and the writers finally seem to be relenting. "The Storm" will see Haley upping her seduction game with Andy.
Watch Season 7 Episode 14 of "Modern Family" at 9 p.m. (EST) Wednesday, Feb. 24, 2016. You can also live-stream "The Storm" via ABC Go.