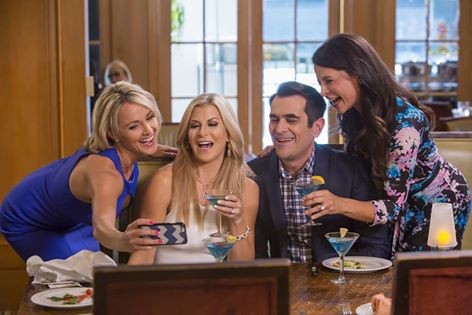 "Modern Family" Season 7 Episode 13 "Thunk in the Trunk" will be aired on Wednesday, Feb. 17, 2016, and fans will get to see the badass boss version of Claire (Julie Bowen) in it. The episode will also see her retired father Jay (Ed O'Neil) acting crazy out of jealousy, but the question all fans have for "Modern Family" writers is if Andy (Adam Devine) and Haley (Sarah Hyland) will be in it.
As fans know, Jay has retired from the closet business and his daughter Claire has taken over as the new boss. In the previously aired "Clean for a Day", fans saw her de-cluttering her house so she can take on the new responsibility with a clean slate.
Her husband Phil (Ty Burrell) has always been her biggest supporter and will continue to be one in "Thunk in the Trunk", even going so far as to take on the role of a housewife, so Claire can concentrate on work. However, hanging out with other housewives may make Phil a little angry that the work of a housewife is never appreciated.
Also Read: Dolly Parton to guest-star in 'Grace and Frankie' Season 2?
Meanwhile, Jay, who is essentially jobless, will busy himself with unwarranted jealousy. Gloria's (Sofia Vergara) hot sauce is a huge success, and in the coming episode they will be seen getting sold at a local supermarket. A revealing cut-out of Gloria placed next to the rack of sauces will attract a lot of male attention, making Jay insecure. In the promo, he is even seen drowning the cut-out in a lake.
These comedic storylines continue to tickle fans of "Modern Family", but the one thing almost all of them unanimously demand is the return of the Andy-Haley storyline. The writers have consciously decided to not focus too much on the couple so as to avoid clichés and to maintain the essence of "Modern Family".
However, fans want to see more of the adorable couple and are expressing these desire in the form of Facebook comments like these:
Brad Thomas: They said they were taking a break on the story line but this break has gone on long enough. Love my favorite tv show but you don't go this long with out an episode with this story line
Watch Season 7 Episode 13 of "Modern Family" at 9 p.m. (EST) on Wednesday, Feb. 17, 2016. You can also live-stream "Thunk in the Trunk" via ABC Go.