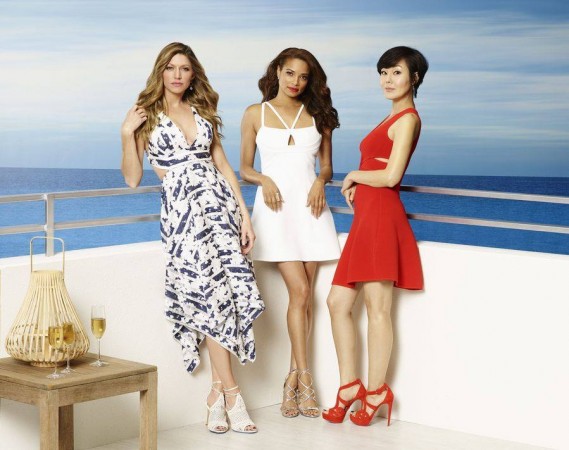 Savi may not be in the picture but Joss (Jes Macallan) still has a sister in her life. The real estate agent seems to have forged a loving relationship with her fiancé's sister, but this will be tested when Kate doesn't take Joss' advice. This will be the crux of Season 4 episode 3 titled "Under Pressure."
The latest episode of "Mistresses" will open with an extremely empathetic Joss telling Kate that she should date more men. The Australian native will not be ready to move on, but Harry's fiancé will ask Kate to forget one man by being with others. (And we have a sneaky suspicion that the women on "Mistresses" may have found their fourth partner.)
Joss may have given her sister-in-law a teenager's recipe to get over heartbreak because Joss' plan will not work. Harry's sister will realise that the only way to forget a fiancé and an engagement is to get married to another person.
In the promo for Season 4 episode 3, Kate excitedly tells Joss that her three dates for the night went well and here's the clincher: she reveals that she has found the one.
"My third with Dean was incredible. The funny thing is, I think he might be the guy. It's going to sound weird after everything that's gone down lately but I could marry [him]," Kate says in the promo.
At this moment, Joss almost chokes on her coffee. Whatever the real estate agent was expecting, this wasn't it. However, it remains to be seen if Joss will say anything to her sister-in-law.
Ever since "Mistresses" Season 4 premiered, Kate has been rather impulsive and perhaps her decision to marry Dean is yet another impulsive decision as well. It seems as if this drama will continue for the rest of the season.
Elsewhere in Season 4 episode 3, Karen's (Yunjin Kim) relationship with her manny will get complicated. Whoever said "I can have my manny and sleep with him too" didn't fully understand the meaning of the sentence because it simply isn't true.
Karen will rethink her decision to sleep with her manny after he invades her personal space and wants to split baby caring responsibilities.
"Mistresses" Season 4 episode 3 airs at 10 p.m. EST on Monday, June 20, on ABC. You can live-stream the episode via ABC GO.