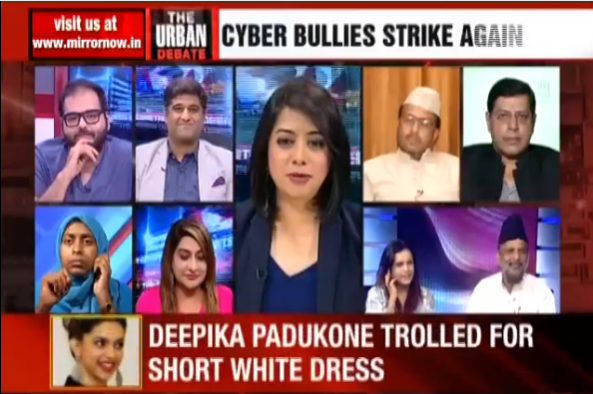 Over the past few days, Indian television is buzzing with reports about Dangal actress Fatima Sana who was criticised for sporting a bikini during the holy month of Ramzan. While many fought back on behalf of the actress, the film fraternity has been surprisingly quiet over the issue.
The news has triggered panel discussions in many TV channels. But one such discussion stood out and has been going viral ever since the debate took place.
Also Read: Dangal actress Fatima Sana Shaikh receives flak for sharing swimwear picture during Ramadan
A news debate over Sana's bikini photo was hosted on Mirror Now and the editor-in-chief, Faye D'Souza, was the curator. It was a heated discussion but suddenly things went out of hand when one of the panellists by name Maulana Yasoob Abbas told D'Souza that if she wanted to be treated as an equal to men, she should come to work in her underwear.
Not tolerating the statement, D'Souza silenced the panel to give him a fitting reply. The two-minute monologue saw D'Souza slamming him by saying, "Maulana threatened me to show up to my workplace in my underwear because I want to be equal to men. This is my temple, this is my workplace."
"He hopes that he will rile me up. He hopes that I will throw a fit and forget how to do my job. Let me tell you Maulana, I have seen lots of men like you. I am not afraid of you and I am not rattled by you. Because you threatened me by something so cheap."
She eventually put him in his place by concluding, "All you men think that if you rattled Sana Fatima, when she is doing her job, if you rattle Sania Mirza when she is doing her job, if you rattle all women when they are doing their jobs that they will run back into their kitchens and cover themselves up. I have news for you, we are not going anywhere."
Watch the full video here!