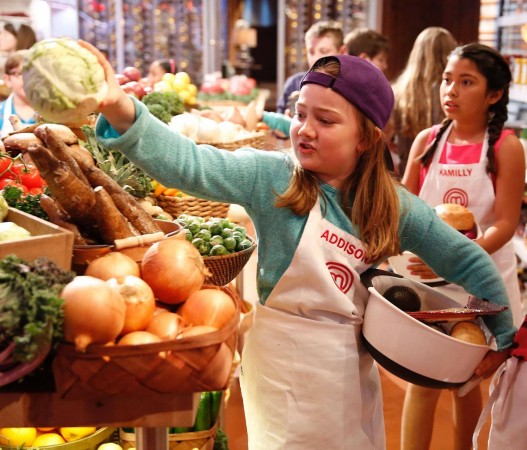 There's history waiting to be made on "MasterChef Junior" Season 4. After all, it is the first time a female home cook will proudly call herself the winner of the reality cooking competition. The two finalists — Addison and Avery — will battle it out for the title of MasterChef in Season 4 Episode 12.
In the finale, the two contestants are required to serve a three-course meal for judges Gordon Ramsay, Christina Tosi and Graham Elliot. Although they will have the support of their family and friends, the two will have to rely on their skill and cook alone.
While it is certainly difficult to predict who might win, this season's favourite has been Addison. The Illinois-native has won most challenges and displayed finesse while cooking meats that are unforgiving. In a video montage chronicling Addison's journey in the MasterChef kitchen, Christina Tosi said: "A fierce competitor in the kitchen, Addison has been in the leaderboard from day one, serving everything from elevated Midwest comfort food to sophisticated entrees with Asian flare."
Meanwhile, her competitor Avery excels at serving sophisticated southern food. This does show her creativity and her skills as a chef, a quality the judges deem extremely important during the finals. In this respect, Avery does have an edge over Addison if she doesn't struggle in the kitchen during the finale.
Who do you think will be the winner? Let us know in the comments section.
"MasterChef Junior" Season 4 Episode 12 airs on Friday, 29 January, at 8 pm on Fox. You can live-stream the episode via FOX NOW.
Watch the promo here: