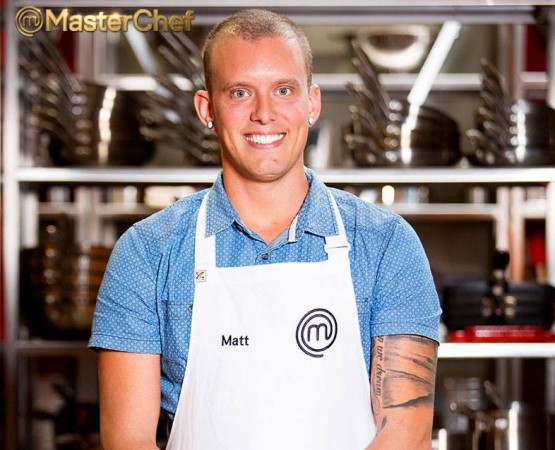 Twenty-four of the finest home cooks in Australia have bid farewell to one of the biggest reality cooking competitions on TV, "MasterChef Australia." Season 8 of the TV series has come to an end and all that's left is to pick a winner between the two finalists -- Matt Sinclair and Elena Duggan. The Season 8 finale, episode 63, is going to capture an intense battle between the two, but the question looming on everyone's mind is this: who will have a slight edge over the other?
Since the start of this year's "MasterChef Australia," Matt has been a favourite. The 27-year-old contestant has not only won several immunity pins, he has been consistent and this, in many ways, remains his shining quality.
The Coffee Roaster from Sunshine Coast, who postponed his honeymoon in order to be part of the TV show, is rumoured to have won this competition after uploading a mysterious Instagram post. However, news of his win hasn't been confirmed yet and in any case, he has a difficult competitor in the form of Elena Duggan, the art teacher from New South Wales.
Elena's dishes have evoked passionate responses from the judges throughout the competition. Early on in the contest, George Calombaris said she could go on to win this year's "MasterChef Australia" after she made a delicious and flavourful Spanish pork and rice dish.
More recently, the judges felt inspired by her crab and cauliflower dish during the mystery box challenge. George, who seems to be a huge fan of Elena said, "What would the world be without you in this competition?" The dish made Elena the winner of the challenge and it remains to be seen if she can pull off more stunning cooks in the Season 8 grand finale.
In episode 63, Matt and Elena will take part in three challenges for a grand total of 100 points. In the first round, the finalists will have to make a dish using one main ingredient. They will be scored on a possible 30 points.
In the second round, Matt and Elena will have to cook their main course in 60 minutes using any style, cuisine or ingredient. They will be scored out of 30 again. However, the last challenge in "MasterChef Australia" Season 8 finale will be a bit different.
The finalists will have to recreate a dish crafted by British celebrity chef, Heston Blumenthal. This will involve five-and-a-half hours of total cook time and the two finalists will be scored out of a possible 40 points.
"MasterChef Australia" Season 8 episode 63 airs at 7.30 pm AEST on Network Ten. You can live-stream the episode via Ten Play.