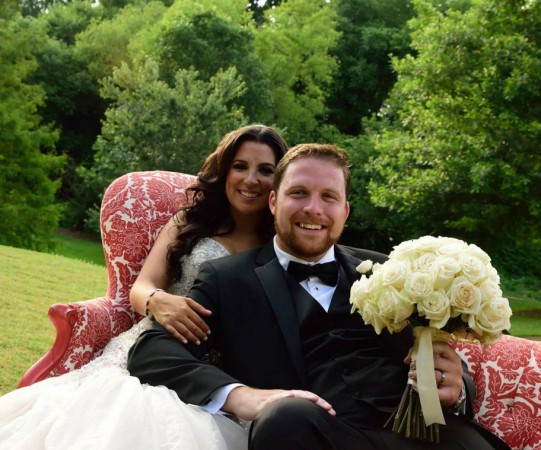 For a while, it seemed as if David and Ashley have worked on their differences and are on the path to a happy marriage. However, the synopsis for the latest episode (Season 3 Episode 11) indicates that the two have fallen apart, yet again.
In the past few episodes of "Married at First Sight", David and Ashley have fought relentlessly about the lack of physical chemistry in their marriage. Although Ashley does not tell her husband that she's still isn't physically attracted to him, he discovers this truth in Season 3 Episode 10. Following this, the two have a huge argument.
It now appears that David has probably found this intimacy with another woman. The synopsis states that Ashley finds him texting another woman and confronts him about it. Although it isn't clear if he is indeed cheating on her, it is widely speculated so.
In the promo, Ashley asks him, "I've got a message that you have asked a girl out for drinks", to which David doesn't respond.
Elsewhere in the episode, insecurities creep into Tres and Vanessa's marriage as well. The latter, who has made it obvious that she struggles with trust issues, becomes jealous of Tres' friendship with another woman. While she does not catch her husband in an unethical act, she is certainly concerned. However, it remains to be seen if Tres will listen to and understand her perspective.
If there's one couple who is happy on the FYI reality show, it is Sam and Neil. This is ironic, considering the misunderstandings that have dogged their happiness. According to the synopsis, Sam will understand her husband better after spending time with his friends. Perhaps all they needed was a key hole perspective into each other's lives. In any case, we hope that the two maintain this status quo in their marriage.
Season 3 Episode 11's synopsis released via TV Guide reads:
"Vanessa is concerned by Tres' friendship with another woman; Samantha begins to understand Neil after spending time with his friends; and Ashley confronts David about texting another woman."
"Married at First Sight" Season 3 Episode 11 titled "Celebrations" airs on Tuesday, 2 February at 9pm on FYI. You can live stream the episode here.
Watch the promo here: